MCT Finals: Carlsen avenges his loss
One thing you can always count on is Carlsen avenging his loss. After losing the first set against Ding Liren on the first day of Magnus Carlsen Chess Tour Finals, the world champion won the second set in just three games. Ding Liren couldn't get out of the gate in the second set. Nakamura continued his domination over Dubov as after making a marathon 91-move draw in the first game, Dubov got a half chance in the endgame of the next game but he was unable to capitalize. In the last two games, things just did not go in Dubov's way. The former World Rapid champion Daniil Dubov is in a must-win situation. If he doesn't win set three then Nakamura will advance to the finals. Photo: Amruta Mokal
Carlsen crushes Ding, Nakamura beats Dubov again
The second day of the Semi-Finals of Magnus Carlsen Chess Tour Finals witnessed less number of games as Carlsen won the second set in just three games. Ding Liren lost to the world champion by 0.5-2.5, meanwhile Nakamura continued his domination over Dubov as he beat him again in four games 3-1. The first game was a marathon draw of 91 moves, in the second game Dubov had a half chance but things did not go his way in the next two games.
Carlsen - Ding Liren 2.5-0.5
Unlike the first set, Carlsen started the second set with a win. He opted for his favorite territory, a queen-less middlegame and grinded Ding Liren in the endgame forcing him to make a mistake.
Carlsen - Ding Liren, Game 8
23...Rab8 was the first big mistake by Ding Liren in the game. Find out why it is a mistake and what black should have done instead.
Carlsen continued his momentum and won the second consecutive game of set 2. The world champion launched an attack on the kingside which wasn't devastating, Ding Liren slightly misplayed in the middlegame.
Ding Liren - Carlsen, Game 9
The game continued with 21.Rb2 which is not a mistake but white should have done something with g6-rook. The longer it stayed there, the more uncomfortable it can make for the white king. What was the better continuation instead?
The straw that broke the camel's back was 35.c5. The game was far from over, in fact white could have survived a bit longer and it would have remained equal if he didn't play 35.c5 and went with say 35.Rc2
Since Carlsen won the first two game of the second set, Ding Liren was in a must-win situation to force a tie-break. The Norwegian made a comfortable draw as his opponent was forced to repeat moves as that was the best outcome he could go for. Thus Carlsen won second set in minimum number of games.
Replay all Ding Liren-Carlsen Semi-Final Set 2 games
Nakamura - Dubov 3-1
The first game of the second set in the Semi-Finals was a marathon 91-move long draw. Neither player made any significant mistake to give a substantial advantage to their opponent, thus the game resulting in a hard fought draw.
In Game 8 Dubov got a half chance in the endgame but he probably missed it due to time trouble.
Dubov - Nakamura, Game 8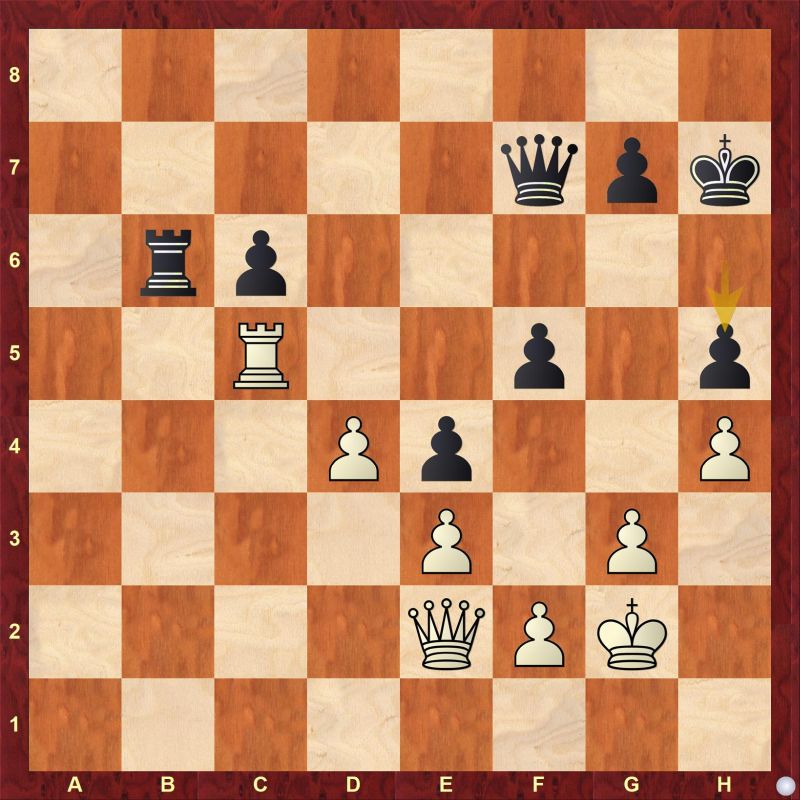 The game continued with 38.Qc2 which is not the best way. If white had played 38.Qd2 or Qe1, things could have gone in white's way.
Nakamura won Game 9 where Dubov repeated Sveshnikov once again.
Nakamura - Dubov, Game 9
Carlsen shared his impression on 29...Bf5 as things have gone a bit wrong for Dubov.
Dubov was in a must-win situation after losing Game 9. He gave up a pawn early in the opening in Vienna game but he never really created any chances for him and eventually lost the game in 32 moves. Thus he lost the second straight set. Now he must win the third set to keep his chances for a spot in the Finals alive.
Replay all Dubov-Nakamura Semi-Final Set 2 games
Replay the live stream
Score after Set 2
Kiva
Broadcaster chess24 has pledged 50 per cent of new Premium memberships bought during its Tour Final to Kiva's Global COVID-19 Response fund that aims to raise at least $50 million for entrepreneurs and small businesses impacted by COVID‑19.
Prizes
Tournament format and schedule
The Semi-Finals will be played in a Best of five sets (mini-matches). A player winning three sets will allow him to advance to the final.
• Each set consists of four rapid games with a time control of 15 mins + 10 seconds increment.
• In case of a tie, two blitz tiebreakers with a time control of 5 mins + 3 seconds increment.
• In case of a tie after blitz, an Armageddon game will be played where White gets 5 minutes, Black gets 4 minutes, but a draw gives Black overall victory.
• The winners move on to the final, which will be played in a Best of 7 sets.
There are no scheduled rest days. The Semi-Finals will take place from 9th-13th August and the Finals will take place on 14th-20th August 2020.
Links
---