MCT Finals: Ding Liren beats Carlsen in the first set
Ding Liren started his campaign with a win over the reigning World Champion in The Finals of Magnus Carlsen Chess Tour. Carlsen struck back and won Game 2. The China no.1 and World no.3 missed a win in Game 3, the following game was an uneventful draw. Carlsen lost Game 5 due to some technical issue. He immediately struck back in Game 6 forcing an Armageddon which the Chinese drew with black pieces allowing him to win the first set of the Semi-Finals. Meanwhile Nakamura and Dubov had four decisive games before making a draw in the fifth game. Their Game 3 and 4 were appreciated by all including Nepomniachtchi. Nakamura won Game 6 resulting in winning the first set of the Semi-Finals. Photo: Amruta Mokal
Nakamura-Dubov steal the show on Day 1
The Semi-Finals of Magnus Carlsen Chess Tour kicked off with Ding Liren beating Carlsen after making a draw with the black pieces in the Armageddon game. Nakamura beat Dubov in the other Semi-Final with 3.5-2.5
Ding Liren - Carlsen 3.5*-3.5
*Ding won the Armageddon
Ding Liren started the Semi-Final with a win over Carlsen in Game 1. He made his intentions very clear that he wants to win.
Ding Liren - Carlsen, Game 1
With 18.c4, Ding announced that he wants to make things happen for him. Black didn't choose the right way to defend the b5-pawn and White took full advantage of it.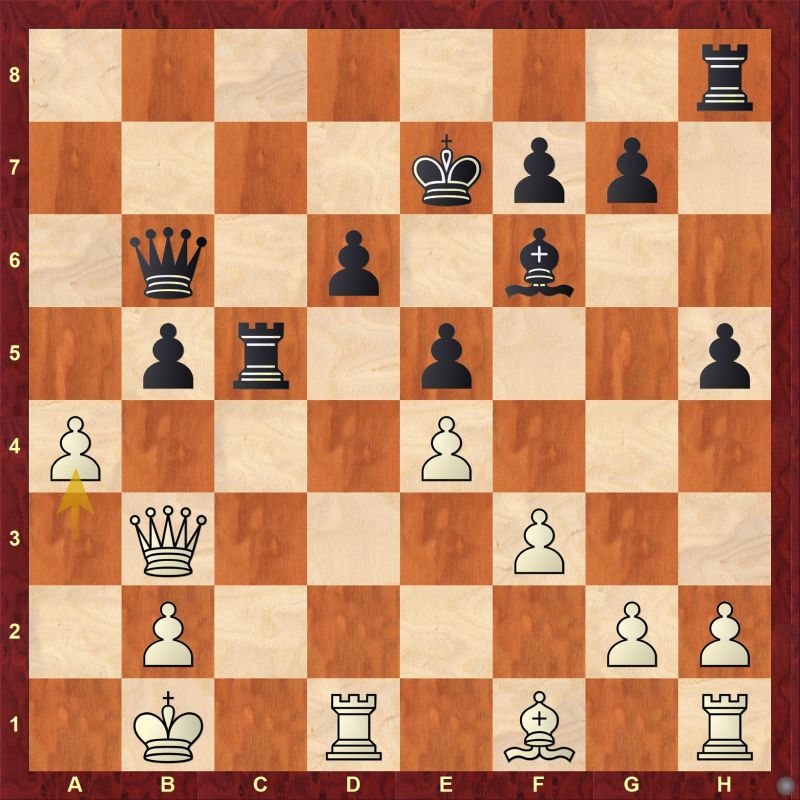 There is no good way for black to defend the b5-pawn. Eventually Ding Liren capitalized on his connected passed pawns on the queen side which forced the World Champion to resign in another 23 moves.
Carlsen struck back immediately in Game 2 after Ding Liren made some dubious choices early in the game and made a quick work in just 24 moves.
Carlsen - Ding Liren, Game 2
7...dxe3 seems like a strange choice as white will keep his bishop in the a3-f8 diagonal and prevent black from doing short castle which is exactly what happened. Although computer might say the position is equal, you cannot ignore the fact that as a human it is quite uncomfortable to play. Soon afterwards all black's pieces lost coordination and Ding Liren couldn't restore harmony back to his position and lost the game.
In Game 3, Ding Liren missed a win in the end. Of course it is safe to assume that he was in time pressure which resulted him in missing the win.
Ding Liren - Carlsen, Game 3
White was winning anyway but after 37...Bf4, things became that much easier for white. Can you find out what white missed here?
After an uneventful draw in Game 4, Ding Liren opted for the exchange variation in Caro-Kann once again and won it. This was the first Blitz game and it had an abrupt finish, due to some technical glitch Carlsen ran out of time and Ding Liren won. Although Ding Liren had an extra pawn but Carlsen had enough compensation for the position to be equal.
Carlsen again bounced back and equalized the score 3-3 forcing an Armageddon to decide who will win the first set.
Carlsen - Ding Liren, Game 6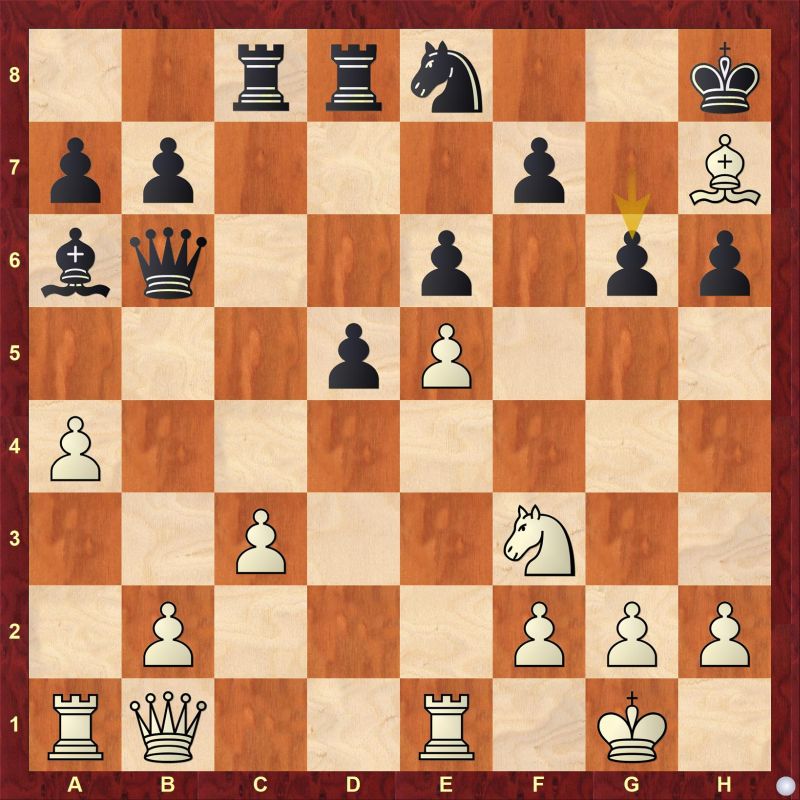 Of course 20...g6 was a mistake because after 21.Bxg6, black lost one pawn too many and things just became difficult for black to get back in the game.
Ding Liren got a winning position in the Queen ending, since it was an Armageddon game, a draw as black was sufficient enough for him to win the first set, he made the correct practical decision and went for a draw.
Carlsen - Ding Liren, Game 7
Find out the winning plan for black here.
Replay all Ding Liren and Carlsen Semi-Final Set 1 games
Nakamura - Dubov 3.5-2.5
Whenever Nakamura and Dubov are playing against each other, you can expect every game of theirs to have some fireworks. That was the case from their first game. Dubov won the first game in just 17 moves.
Dubov - Nakamura, Game 1
How should white continue after 13...Nxc3 ?
Dubov dominated the majority of Game 2. However an incorrect placement of king cost him the game.
Nakamura - Dubov, Game 2
The game continued with 27...Rfc8 which is not bad but it is certainly not the best way to continue. What do you think black should have done instead?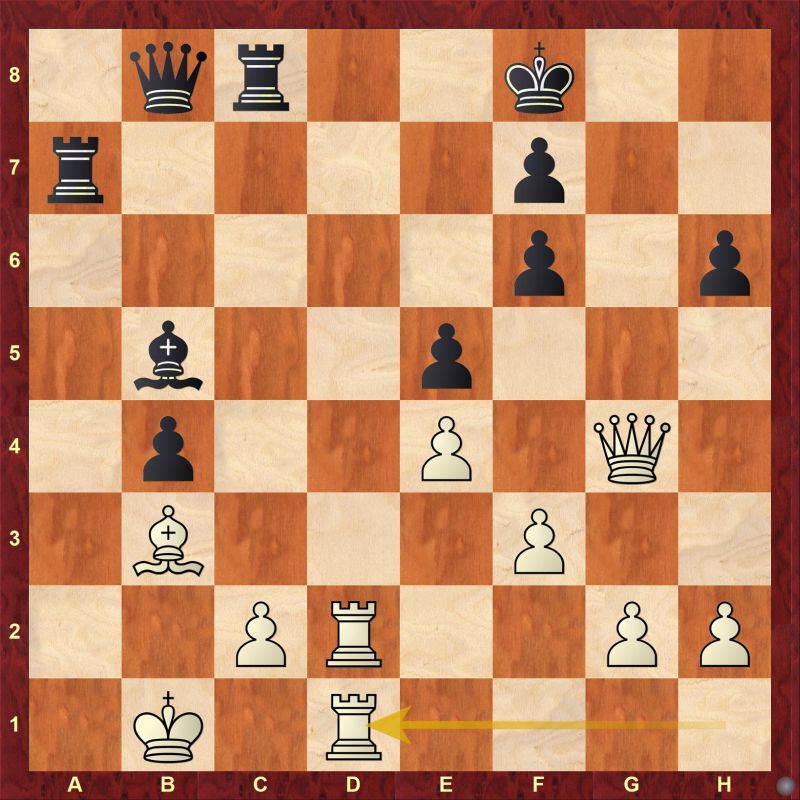 Dubov made the final irrevocable mistake probably under time pressure with 32...Ke7. Find out why it is a mistake and what black should have done instead.
Game 3 of Nakamura-Dubov was absolutely surreal. In this era, the game is heavily influenced by computer but Nakamura and Dubov proved that humans can play in a way which computer cannot comprehend.
Dubov-Nakamura, Game 3
You can be rest assured that the above diagram is highly likely to appear in Dubov-Nakamura's game more than anyone else's. It is a different story that 24...Re5 doesn't save the day for black.
After suffering two consecutive losses, Dubov had to win to have any chances left at winning the first set and he managed to win Game 4.
Nakamura - Dubov, Game 4
The game continued with 45.Ra8+. What was the better continuation for white?
Dubov's compatriot Ian Nepomniachtchi appreciated Game 3 and 4 between Dubov and Nakamura.
Game 5 witnessed the first draw in the first set of the Semi-Finals between Dubov and Nakamura after having four decisive games.
With the score tied at 2.5-2.5, Nakamura won Game 6 to make sure he won the first set with 3.5-2.5 against Dubov.
Nakamura - Dubov, Game 6
The pawn race was won by Nakamura. The bishop pair in the open position definitely helped him to score the much needed victory.
Replay all Dubov-Nakamura Semi-Final Set 1 games
Replay the live stream
Kiva
Broadcaster chess24 has pledged 50 per cent of new Premium memberships bought during its Tour Final to Kiva's Global COVID-19 Response fund that aims to raise at least $50 million for entrepreneurs and small businesses impacted by COVID‑19.
Prizes
Tournament format and schedule
The Semi-Finals will be played in a Best of five sets (mini-matches). A player winning three sets will allow him to advance to the final.
• Each set consists of four rapid games with a time control of 15 mins + 10 seconds increment.
• In case of a tie, two blitz tiebreakers with a time control of 5 mins + 3 seconds increment.
• In case of a tie after blitz, an Armageddon game will be played where White gets 5 minutes, Black gets 4 minutes, but a draw gives Black overall victory.
• The winners move on to the final, which will be played in a Best of 7 sets.
There are no scheduled rest days. The Semi-Finals will take place from 9th-13th August and the Finals will take place on 14th-20th August 2020.
Links
---