MCT Finals: Carlsen wins the sixth set despite a back injury
Nakamura was just one set away from winning Magnus Carlsen Chess Tour Finals. Carlsen made sure that it remained that way. Despite suffering a back injury while going for a swim in the ocean, Carlsen played some attacking chess and won the first game without any difficulty. In the second game, Carlsen did not want to settle for a draw and pushed too hard, resulting in Nakamura getting decisive advantage. The 'Speed King' was unable to seize the opportunity and had to settle for a draw. After making a quick draw in the third game, Carlsen won the fourth game to win the sixth set 3-1 and force seventh set to be the decider to determine who will win the finals. The final set of the Magnus Carlsen Chess Tour Finals will continue today from 7:30 p.m. IST. Photo: Grand Chess Tour
Carlsen-Nakamura epic final will be decided on the final set
The World champion suffered back injury while swimming in the ocean before the important sixth set games. However that did not stop him from continuing the finals. He won the first game after Nakamura did not manage to defend his king well. Carlsen refused to settle for a draw in the second game of the day, staying true to his style, although it allowed his opponent to get a winning chance in the Rook endgame. Unfortunately for Nakamura, he couldn't equalize the score and had to settle for a draw only. After a quick 17-move draw in the third game, the World no.1 capitalized on his opponent's blunder and won the fourth game, thus winning the sixth set. The seventh and final set will decide who will win Magnus Carlsen Chess Tour Finals.
Carlsen - Nakamura 3-1
Carlsen was determined to win from the very first game as he was in a must-win situation. So he didn't want to wait to deliver the equalizer. Early in the middlegame he decided to sacrifice two pawns - c4 and d5 to gain an initiative on the kingside.
Carlsen - Nakamura, Game 28
Was Nakamura wrong in taking those two pawns? I don't think so. What transpired afterwards was something that black could have handled in a better way.
The game continued with 25...Rg8 which is a mistake and allowed white to gain the upper hand. What was the better continuation here instead?
Of course the position looks absolutely dangerous for the black king but it's still not over. In the game black tried to run away with the king 27...Kg7 which is not the best idea. Find out how black could have handled things in a better way.
The second game of the day seemed to have headed for a draw until Carlsen pushed too hard in the Rook and many pawns endgame which gave Nakamura a winning chance.
Nakamura - Carlsen, Game 29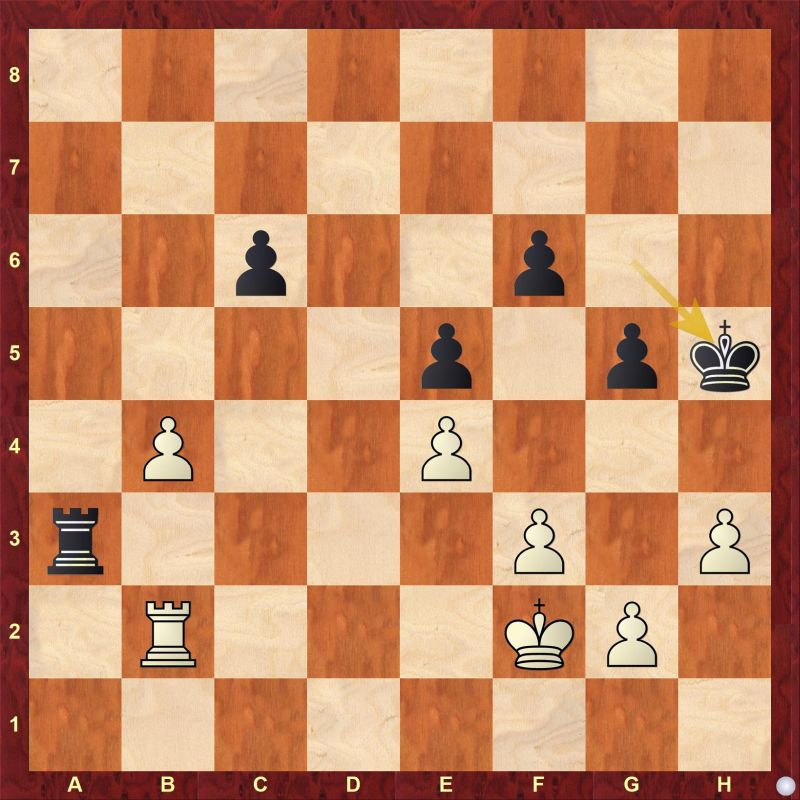 Black's king advancement on the kingside is not a good idea. 51...Kh5 gave white a winning hope. Instead 51...Kf7 or Kg7 would have sufficed for a draw.
Find out the winning continuation for white here. White played 62.Rc3 which could probably be a mouse slip and the game headed towards a draw.
Best seller writer and renowned coach GM Ivan Sokolov tweeted this after the game
The third game was a quick 17-move draw. In the fourth and final game, Nakamura was in a must-win situation to force blitz tie-breaks. He blundered in a difficult position.
Nakamura - Carlsen, Game 31
White blundered here with 36.Qc3. Find out what white could have played instead.
Nepomniachtchi tweeted this after the proceedings of Day 6 got over
Replay all Nakamura-Carlsen Final Set 6 games
Replay the live stream
Day 6 results
Scores
Kiva
Broadcaster chess24 has pledged 50 per cent of new Premium memberships bought during its Tour Final to Kiva's Global COVID-19 Response fund that aims to raise at least $50 million for entrepreneurs and small businesses impacted by COVID‑19.
Prizes
Tournament format and schedule
The Semi-Finals will be played in a Best of five sets (mini-matches). A player winning three sets will allow him to advance to the final.
• Each set consists of four rapid games with a time control of 15 mins + 10 seconds increment.
• In case of a tie, two blitz tiebreakers with a time control of 5 mins + 3 seconds increment.
• In case of a tie after blitz, an Armageddon game will be played where White gets 5 minutes, Black gets 4 minutes, but a draw gives Black overall victory.
• The winners move on to the final, which will be played in a Best of 7 sets.
There are no scheduled rest days. The Semi-Finals will take place from 9th-13th August and the Finals will take place on 14th-20th August 2020.
Links
---