MCT Finals: Nakamura beats Carlsen in the Armageddon
The first four days of Nakamura-Carlsen finals in the Magnus Carlsen Chess Tour Finals has been so amazing that chess lovers all around the world are clamoring for more matches between the two. This set format like a Tennis match seems to be working out quite well for both players and spectators. Sure there are few uneventful draws, but the players are human too. They need to relax after a nail-biter finish. The fifth set witnessed four draws and then Carlsen won the fifth game. Thus Nakamura was in a must-win situation. He not only won that game but also won the Armageddon, allowing him to be one set closer to winning the entire finals. Do you think Nakamura will finish things off in the sixth set or can Carlsen make a comeback and take things to the seventh and final set? Finals Day 6 will continue today from 7:30 p.m. IST. Photo: Saint Louis Chess Club
Nakamura inches closer towards winning the finals
After making draws in all four rapid games, Nakamura lost the first blitz game and he was backed into a corner. He was in a must-win situation with the black pieces. He did win the game and forced an Armageddon to break the tie. Carlsen opted for white which meant Nakamura had the advantage of making a draw and still win the match. But Nakamura is not the one to win an Armageddon by making a draw, he went for a win and he won the Armageddon and the fifth set too. He is now just one set away from winning the entire Magnus Carlsen Chess Tour Finals.
Nakamura - Carlsen 4-3
Carlsen opted for Berlin in the very first game. Just when it seemed like this will be another Berling draw, something popped up in the Queen ending
Nakamura - Carlsen, Game 21
Black has a clear winning chance after 42.Kg3. The game continued with 42...Qe1+ which led to a draw in another twelve moves. Find out the winning continuation here.
The second game of the day was an uneventful draw just like the previous day. Third game saw another Berlin from Carlsen and the result was the same as the first two games of the fifth set. Fourth game was also another draw which made it the first time in the finals where all four rapid games ended up in draws. It prompted Nepomniachtchi to tweet that he has nothing to talk about after four draws in the rapid.
The World champion opted for Alekhine's Defence in the fifth game which was also the first blitz game of the set. Nakamura gave up one pawn too many and the game quickly turned into his opponent's favor within the first 20 moves of the game.
Nakamura - Carlsen, Game 25
Black has attacked c4 with 16...Nb2. Find out the best continuation for white. The game went on with 17.Bg5 Qd7 18.Qh4 which resulted black getting the c4-pawn and the upper hand.
After losing the first blitz game, Nakamura was in a must-win situation with the black pieces. Guess what? Nakamura won the game on demand surprising a lot of people.
Carlsen - Nakamura, Game 26
White is certainly not forced to take on e4. What should white do then? White took on e4 and that certainly helped black.
The final mistake in the game was probably taking d4 as black gets total control of the dark squares and if anyone can win from the position after 31.Bxd4 cxd4 then it is certainly black which is what happened in the game.
Carlsen opted for white in the Armageddon. Since there is time odds and white is always in a must-win situation to win the match, white put himself in a corner.
Carlsen - Nakamura, Game 27
The c4-pawn is hanging and there is no good way to defend it. But white made an inaccurate exchange with 21.Bxf6 which was unnecessary, resulting in black getting complete control of the e-file.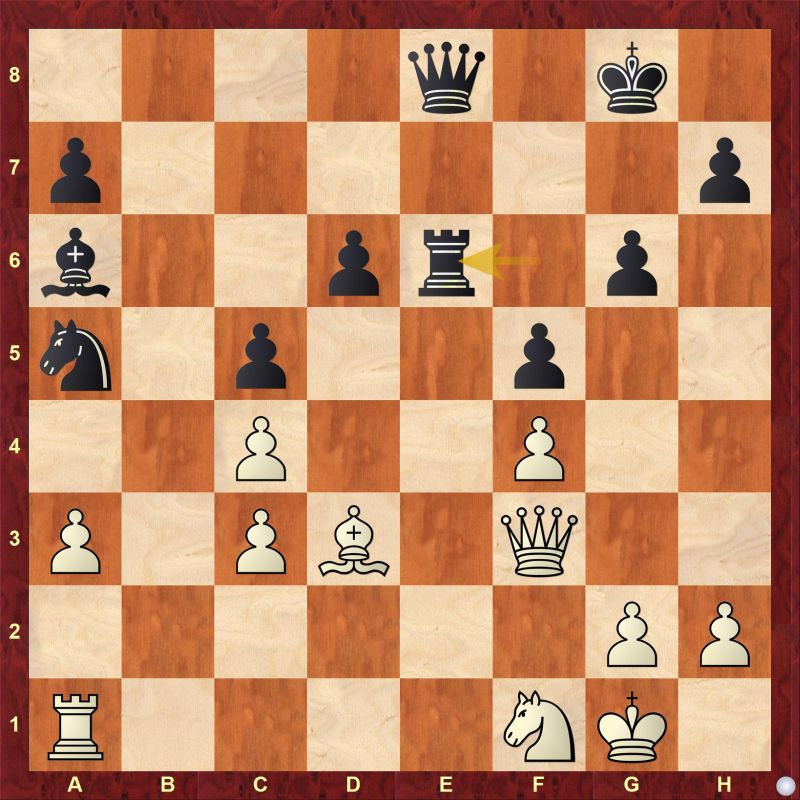 White could have tried to create some chances here with 23.g4 but with 23.Rb1, things just became easier for black to get a decisive advantage and eventually win the game.
Replay all Nakamura-Carlsen Final Set 5 games
Replay the live stream
Day 5 results
Scores
Kiva
Broadcaster chess24 has pledged 50 per cent of new Premium memberships bought during its Tour Final to Kiva's Global COVID-19 Response fund that aims to raise at least $50 million for entrepreneurs and small businesses impacted by COVID‑19.
Prizes
Tournament format and schedule
The Semi-Finals will be played in a Best of five sets (mini-matches). A player winning three sets will allow him to advance to the final.
• Each set consists of four rapid games with a time control of 15 mins + 10 seconds increment.
• In case of a tie, two blitz tiebreakers with a time control of 5 mins + 3 seconds increment.
• In case of a tie after blitz, an Armageddon game will be played where White gets 5 minutes, Black gets 4 minutes, but a draw gives Black overall victory.
• The winners move on to the final, which will be played in a Best of 7 sets.
There are no scheduled rest days. The Semi-Finals will take place from 9th-13th August and the Finals will take place on 14th-20th August 2020.
Links
---