FIDE World Cup 2021 R1 TB: Gukesh advances to Round 2
by Shahid Ahmed - 15/07/2021
All twelve Indian players have advanced to the second round of FIDE World Cup and Women's World Cup 2021. Gukesh won his first tie-break game against Teclaf and drew the next one to advance to the next stage. He will face former World Rapid champion Daniil Dubov in Round 2. Vidit and Adhiban's opponents for the next round was also revealed. They will face GM Alexandr Fier of Brazil and GM Neuris Delgado Ramirez of Paraguay respectively. Round 2 starts today at 5:30 p.m. IST. Watch the Live commentary and analysis on ChessBase India youtube channel with IM Sagar Shah and Amruta Mokal. Photo: Eric Rosen/FIDE
Team India is through to the next round
The entire Indian contingent have advanced to Round 2. Only Gukesh had to play the tie-breaks, which he won comfortably. The youngest GM of India needed only two Rapid games of 25 mins + 10 seconds each to advance to the next stage.
Teclaf - Gukesh: 1.5-2.5
A lot can happen in one move. Teclaf blundered in a position where an alternate capture could have given him an advantage.
21.Qxc7 is the incorrect capture for White as that costs him a piece. Try to think like Gukesh and find out the winning continuation for Black. 21.Bxc7 would have given White the upper hand.
Gukesh got an early advantage in the second game.
12...c5 just loses material for Black. 12.dxc6 dxc6 13.Nxe6 costs Black an exchange. White decided against taking it and continued 14.g3. Gukesh was better for the majority of the game, since a draw was enough for him to go through to Round 2, he made a draw.
Open results:
IM Pawel Teclaf (POL) - GM D Gukesh: 1.5-2.5
Round 2 pairings:
Open
Vidit Gujrathi vs. GM Alexandr Fier (BRA)
GM Neuris Delgado Ramirez (PAR) vs. B Adhiban
GM Daniil Dubov (RUS) vs. D Gukesh
The pairings of the remaining nine Indian players were confirmed on the previous day.
Highlights
Here are a few interesting finishes from Round 1 tie-breaks.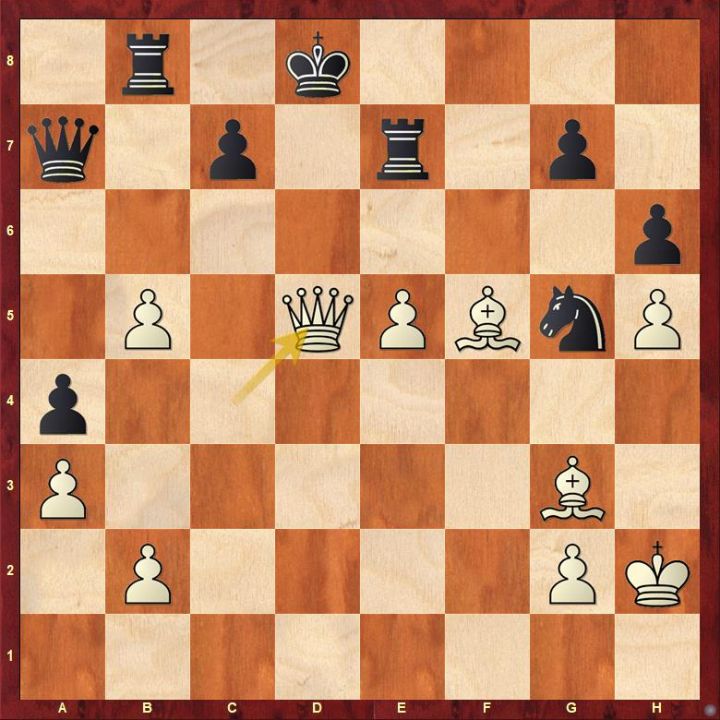 Photo Gallery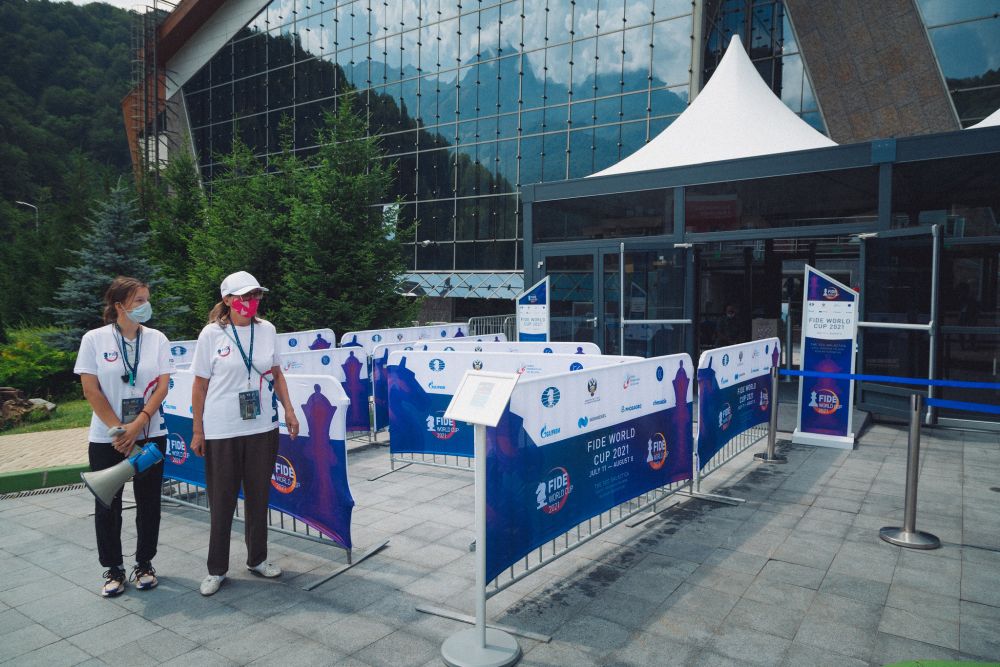 Replay Round 1 TB Open games
Replay Round 1 TB Women games
Links:
---
Related news
:
Jan-Krzysztof Duda clinches FIDE World Cup 2021

@ 06/08/2021 by Shahid Ahmed (en)
पोलैंड के यान डूड़ा बने फीडे विश्व कप 2021 के विजेता

@ 05/08/2021 by Niklesh Jain (hi)
Carlsen composes a symphony of positional sacrifice

@ 05/08/2021 by Shahid Ahmed (en)
Jan-Krzysztof Duda shatters Carlsen's World Cup dreams

@ 04/08/2021 by Shahid Ahmed (en)
विश्व कप फिर बना कार्लसन का ख्वाब ,डूड़ा ने दी मात

@ 03/08/2021 by Niklesh Jain (hi)
Alexandra Kosteniuk wins the FIDE Women's World Cup 2021

@ 03/08/2021 by Shahid Ahmed (en)
FIDE Women's World Cup 2021 Final 1: Kosteniuk swindles Goryachkina

@ 02/08/2021 by Shahid Ahmed (en)
FIDE World Cup 2021 QF TB: Resilient Karjakin knocks out Shankland

@ 31/07/2021 by Shahid Ahmed (en)
विदित हुए विश्व कप से बाहर ,सपना टूटा हौसला नहीं

@ 30/07/2021 by Niklesh Jain (hi)
FIDE World Cup 2021 QF2: Duda eliminates Vidit

@ 30/07/2021 by Shahid Ahmed (en)
FIDE World Cup 2021 QF1: Carlsen and Shankland score convincing wins

@ 29/07/2021 by Shahid Ahmed (en)
विश्व कप QF - विदित और डूड़ा की पहली बाजी अनिर्णीत

@ 29/07/2021 by Niklesh Jain (hi)
FIDE World Cup 2021 R5 TB: Carlsen wins an epic match against Esipenko

@ 28/07/2021 by Shahid Ahmed (en)
फीडे विश्व कप - QF - विदित से होगा डूड़ा का मुक़ाबला

@ 28/07/2021 by Niklesh Jain (hi)
FIDE World Cup 2021 R5.2: Vidit and Shankland through to the Quarterfinals

@ 27/07/2021 by Shahid Ahmed (en)
विदित नें रचा इतिहास : विश्व कप के अंतिम 8 में पहुंचे

@ 26/07/2021 by Niklesh Jain (hi)
FIDE World Cup 2021 R5.1: Vidit makes a great escape

@ 26/07/2021 by Shahid Ahmed (en)
फीडे विश्व कप R 5.1 : विदित नें बचाई मुश्किल बाजी

@ 25/07/2021 by Niklesh Jain (hi)
FIDE World Cup 2021 R4 TB: Carlsen makes his way to the Round of 16

@ 25/07/2021 by Shahid Ahmed (en)
FIDE World Cup 2021 R4.2: Vidit storms into Round of 16

@ 24/07/2021 by Shahid Ahmed (en)
बुलंद इरादो के साथ विदित विश्व कप के अंतिम 16 में

@ 24/07/2021 by Niklesh Jain (hi)
FIDE World Cup 2021 R4.1: Vidit beats Xiong, Pragg holds MVL to a draw

@ 23/07/2021 by Shahid Ahmed (en)
विश्व कप R4.1 : विदित नें भुनाया मौका ,जेफ्री को हराया

@ 22/07/2021 by Niklesh Jain (hi)
फीडे विश्व कप : विदित - अधिबन मुक़ाबले नें रोकी साँसे

@ 21/07/2021 by Niklesh Jain (hi)
FIDE World Cup 2021 R3 TB: Vidit wins a thriller against Adhiban

@ 21/07/2021 by Shahid Ahmed (en)
FIDE World Cup 2021 R3.2: Harikrishna through to Round 4, Adhiban makes a comeback

@ 20/07/2021 by Shahid Ahmed (en)
FIDE World Cup 2021 R3.1: Harikrishna, Vidit and Pragg score

@ 19/07/2021 by Shahid Ahmed (en)
फीडे विश्व कप R3.1:अधिबन से जीते विदित : हरिकृष्णा , प्रग्गानंधा को जीत तो निहाल ,हरिका को मिली हार

@ 18/07/2021 by Niklesh Jain (hi)
FIDE World Cup 2021 R2 TB: Vidit conquers Fier

@ 18/07/2021 by Shahid Ahmed (en)
फीडे विश्व कप - टाईब्रेक जीत विदित तीसरे दौर में

@ 18/07/2021 by Niklesh Jain (hi)
फीडे विश्व कप R 2.2- निहाल -प्रग्गानंधा फिर चमके

@ 17/07/2021 by Niklesh Jain (hi)
FIDE World Cup 2021 R2.2: Harikrishna, Adhiban, Pragg, Nihal and Harika advance to Round 3

@ 17/07/2021 by Shahid Ahmed (en)
FIDE World Cup 2021 R2.1: Gukesh holds Dubov to a draw

@ 16/07/2021 by Shahid Ahmed (en)
फीडे विश्व कप R2 : हरिका ,अधिबन ,प्रग्गानंधा जीते

@ 16/07/2021 by Niklesh Jain (hi)
FIDE World Cup 2021 R1.2: Gukesh to play tie-breaks

@ 14/07/2021 by Shahid Ahmed (en)
फीडे विश्व कप R:1.2 - गुकेश करेंगे टाईब्रेक का सामना

@ 14/07/2021 by Niklesh Jain (hi)
FIDE World Cup 2021 R1.1: Indian Men and Women off to a fantastic start

@ 13/07/2021 by Shahid Ahmed (en)
फीडे विश्व कप का आरंभ - भारत की अच्छी शुरुआत

@ 13/07/2021 by Niklesh Jain (hi)
फीडे नें जारी की विश्व कप शतरंज 2021 की अंतिम सूची

@ 22/06/2021 by Niklesh Jain (hi)