FIDE World Cup 2021 R3.2: Harikrishna through to Round 4, Adhiban makes a comeback
Harikrishna played solid to make a draw with Lupulescu and secure his place in the fourth round of FIDE World Cup 2021. Praggnanandhaa almost played his immortal game to beat Krasenkow for the second consecutive game, but time was not on his side. Adhiban made a fierce comeback by scoring an equalizer against Vidit. Nihal and Harika both drew their respective games to get eliminated from the tournament. While Nihal was not given any fragment of chance by his opponent Andreikin, Harika's relentless pursuit of comeback almost forcefully opened a window of opportunity for her, but it was not meant to be in the first edition of FIDE Women's World Cup. Tie-break games of Round 3 starts today at 5:30 p.m. IST. Watch the Live commentary and analysis on ChessBase India youtube channel with IM Sagar Shah and Amruta Mokal. Photo: Eric Rosen/FIDE
Pragg sets the board on fire, Nihal and Harika get knocked out
It was neither Dubov nor Shirov who played the most exciting game of Round 3.2. It was our very own Praggnanandhaa. He was not even in a must-win situation but still he played bravely against Krasenkow. Pragg almost won the game, but a time scramble cost him dearly. Adhiban also played in his usual courageous way to beat Vidit and force tie-breaks.
Lupulescu - Harikrishna: 0.5-0.5
Harikrishna made a solid draw with Constantin Lupulescu to secure his place in the fourth round where he will face Iran no.3 GM Md. Amin Tabatabaei.
Adhiban - Vidit: 1-0
If there is one person whom you can count on making a comeback after being down by a full point, it has to be Adhiban. The reason is simple, he is ready to win by doing anything and everything on the board.
The above position shows that Adhiban is not afraid to do what's required. He transfers his king to the queenside to complete artificial castling.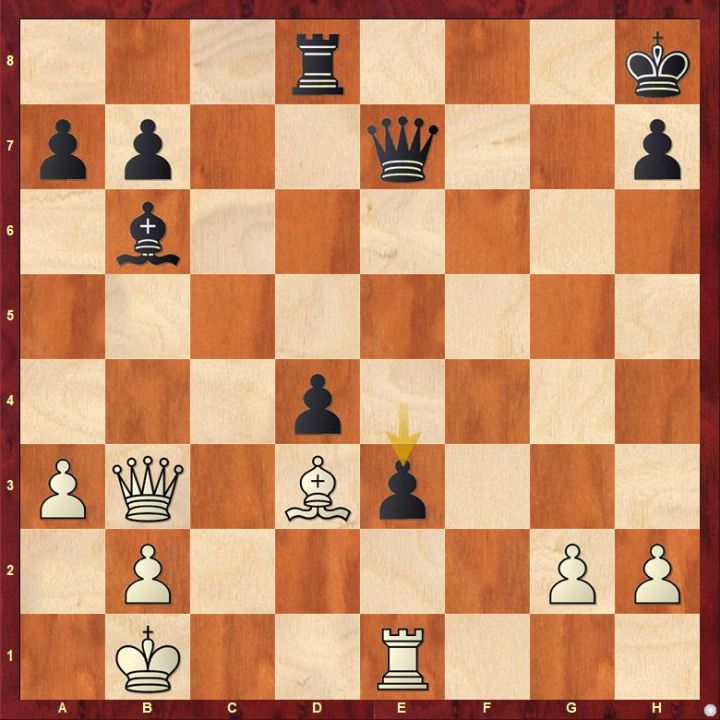 This is certainly not an easy position to play in a must-win situation. However, open positions definitely favor Adhiban because he is very sharp and always looking for tactical chances.
Vidit's first mistake in the game would be 30...e2. The pawn sacrifice is unnecessary because a simple 30...Rf8 or Kh8 would have sufficed as White does not have any deadly threats. 31.Bxe2 Rf8 32.Rh1 Adhiban carefully avoids the rook exchange because having more pieces means he has more chances to score a win.
White's plan is simple, push both g and h-pawns to attack the black king. Vidit left without a choice, had to take on h2. The game continued 46...Bxh2 47.Qc8+ Kg7 48.Qh3 Be5 49.Qxh7+ Kf8 50.Qf5+ Ke8 51.g6. The g6-pawn eventually became the deciding factor for White to score a win.
Adhiban made a very nice practical decision of exchanging the queens because the resultant opposite color bishop endgame is completely winning for him.
Andreikin - Nihal: 0.5-0.5
Dmitry Andreikin played solid, exchanged pieces at regular intervals and the game predictably ended in a draw. Thus, Nihal got eliminated from his second FIDE World Cup appearance.
Krasenkow - Praggnanandhaa: 1-0
Praggnanandhaa absolutely unleashed beast mode again Michal Krasenkow. Although, Pragg needed just a draw to advance to the next round, he played fearlessly and almost won a spectacular game but time was not on his side.
Saving the h8-rook is apparently a bad idea according to the computer. 14...Rf8 is met by 15.Be2 Qe4 16.Ng5 Qg6 17.Qxh7 and White is doing much better.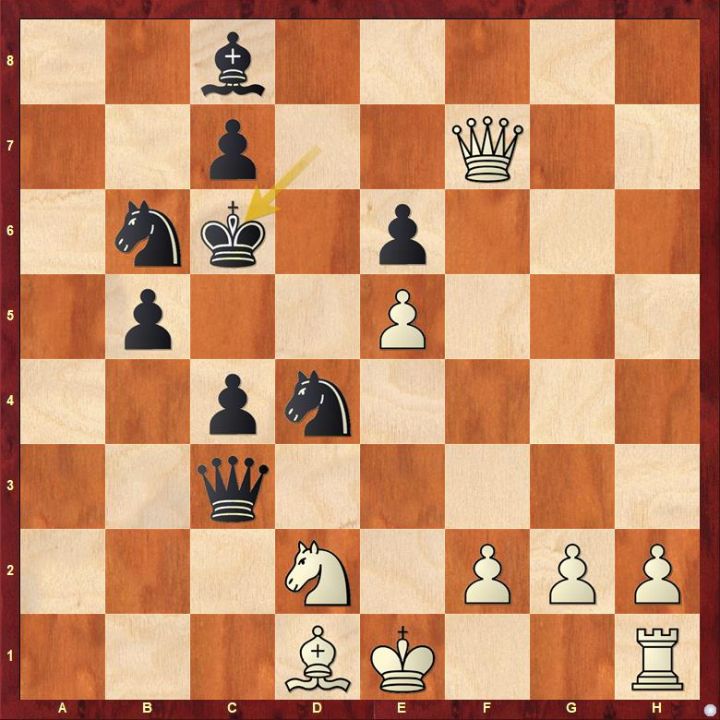 Black's king is strangely placed at c6, however it certainly looks better for Black because the white king is stranded at the center and the rook is yet to partake in the game.
23...Nb4 allows Black to win the game soon. Since Pragg was short on time, he decided to go with 23...Bb7 which is not bad, but it just prolongs the game, something which his opponent would definitely like.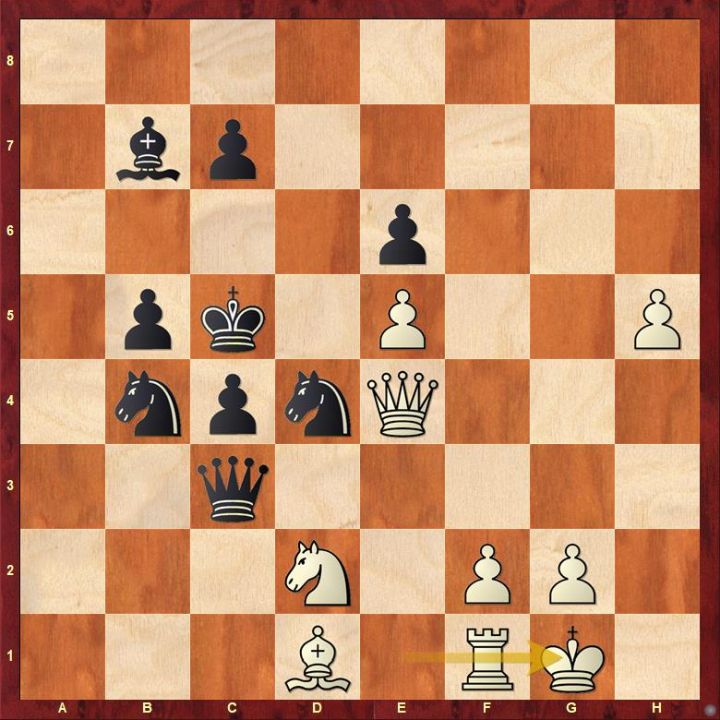 The entire idea behind 23...Bb7 and 24...Nb4 became futile as White played 25.0-0. Now you cannot take on e4 as White recaptures and creates a fork which loses material for Black. Thus, 25...Qxd2 was forced 26.Qxb7 Nd5 27.h6 c3 and it became a race between two passed pawns.
Pragg needed to go further with king 31...Kd3 would have been a smooth victory for him and could probably be one of the best wins he has ever score. Unfortunately it was not meant to be, he played 31...Kb4 which is not bad either, it just makes things more difficult especially in time scramble.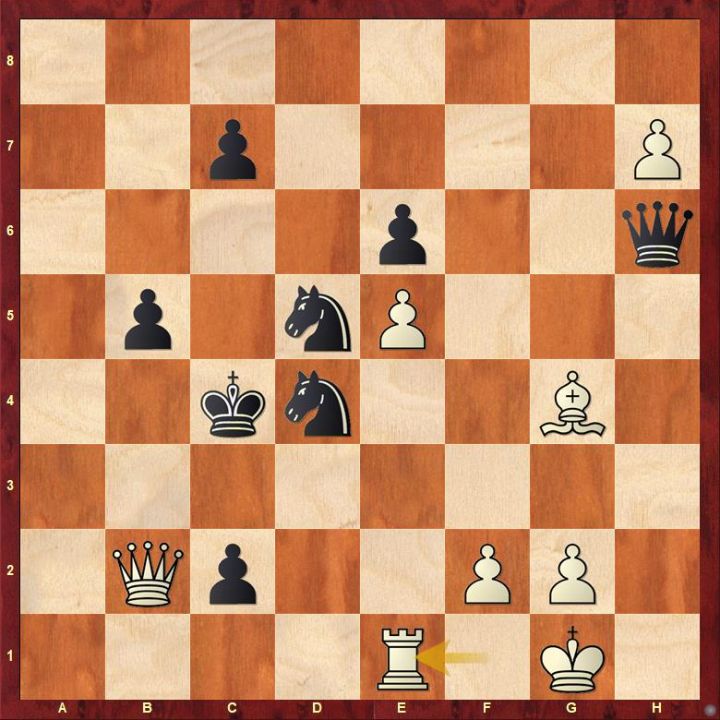 Black needed to get rid of the h7-pawn, and it would have been over for White, but he blundered 33...Nf4 and White got back in the game 34.h8=Q Qxh8 35.Re4 and it's all over for Black. A fantastic game by Pragg had an anti-climactic finish.
Harika - Gunina: 1-0
Harika gave her all but it was not enough as Gunina showed her grit and found resources to save the game and eventually make a draw.
One of the best chance White had in the entire game is in the above position. White would definitely like to Rd7 here to finish the game but the c6-bishop is en prise, thus 35.Be4 first with the threat of Rd7 is absolutely dangerous. 35...Re7 does not work because there is a checkmate threat at h8. The only defence would be 35...Ne3+ 36.Kf3 Nf5 and now 37.Qd7 is winning for White. A bit more time would have allowed Harika to find this intermediate move. White directly played 35.Qd7 and slowly her advantage dwindled. Gunina escaped with a draw.
Results:
Open
GM B Adhiban - GM Vidit Gujrathi: 1-1
GM Constantin Lupulescu (ROU) - GM P Harikrishna: 0.5-1.5
GM Michal Krasenkow (POL) - GM Praggnanandhaa R: 1-1
GM Dmitry Andreikin (RUS) - GM Nihal Sarin: 1.5-0.5
Women
GM Dronavalli Harika - GM Valentina Gunina (RUS): 0.5-1.5
Caruana - Jumabayev: 0-1
The biggest upset of Round 3.2 is Kazakhstan no.1 and World no.124 GM Rinat Jumabayev beating World no.2 Fabiano Caruana. Jumabayev won the match 1.5-0.5 against the former world championship challenger.
Highlights
Here are a few interesting finishes from Round 3.2
Photo Gallery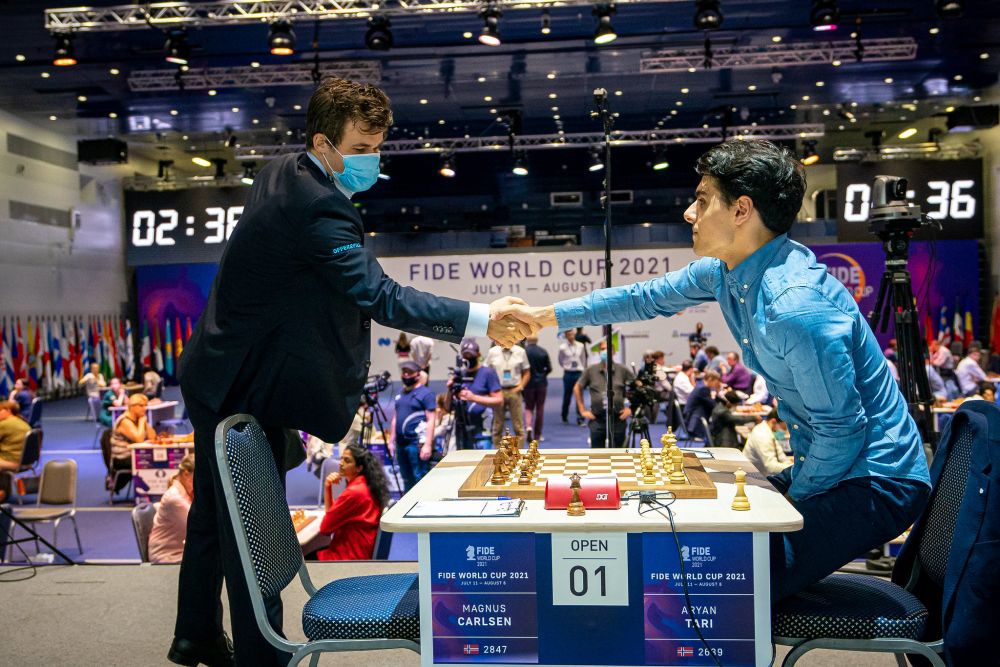 Replay Round 3.2 Open games
Replay Round 3.2 Women games
Links:
---