FIDE World Cup 2021 R5.2: Vidit and Shankland through to the Quarterfinals
Vidit completely outplayed Durarbayli in the second game of the fifth round of FIDE World Cup 2021. This win made sure he became the second Indian since Anand to have advanced to a Quarter-Final of a FIDE World Cup. Shankland defeated Svidler to secure his place in the final eight. Thus, both Vidit and Shankland qualified to the FIDE Grand Prix 2022. If they reach the Finals, they will qualify to the next Candidates. Among the women, Goryachkina, Kosteniuk and Zhongyi advanced to the Semi-Finals. Since Goryachkina has already qualified to the next Women's Candidates, the other two Semifinalists will join the winner of Anna Muzychuk-Nana Dzagnidze in the tie-breaks to qualify to the FIDE Women's Candidates 2022. The tie-break games of the fifth round starts today at 5:30 p.m. IST. Photo: Anastasiia Korolkova/FIDE
Goryachkina, Kosteniuk and Zhongyi in the Semifinals
The second game of the fifth round of FIDE World Cup 2021 and FIDE Women's World Cup witnessed six decisive games. Vidit, Shankland, Goryachkina, Kosteniuk and Zhongyi, all five of them advanced to the next stage. Tabatabaei got a second life as on the brink of elimination, his opponent blundered and the Iranian scored a victory, forcing tie-breaks. Carlsen will also play tie-breaks against Esipenko, someone who has never lost a game against the world champion and defeated him early this year in their very first encounter.
Durarbayli - Vidit: 0.5-1.5
Vidit shut his opponent's light-squared bishop early in the game. Little did Durarbayli know that that bishop will not be able to participate for the rest of the game.
That is why generally in Ruy Lopez, white plays c3 to create an escape route for the b3-bishop. It was possible to do that 11.c3 which may not be the best move but a good practical idea.
20...c3 puts White in a dilemma. 21.b3 is a terrible idea as it permanently blinds the b1-bishop. So he took it 21.bxc3 Bc4 22.Rfe1 Bxe2 23.Rxe2 bxc3 and the bishop is still in a fix, one that eventually cost him the game.
Black completely outplayed his opponent by preying on the weak bishop at b1 which can no longer be defended and White has zero counterplay. Vidit won the game in another seven moves, moved to World no.20 in the live ratings and secured his place in the Quarter-Finals as well as in the FIDE Grand Prix 2022. However, if he reaches the Finals then he will directly qualify to the next FIDE Candidates.
Shankland - Svidler: 1.5-0.5
Shankland and Svidler had a sharp game. The Russian blundered where white seems to have a slight edge but computer says the position is equal.
Find out why 24...Qb6 is a blunder and what Black could have done instead.
Martirosyan - Tabatabaei: 1-1
Tabatabaei won the must-win game against Martirosyan to force tie-breaks. The Armenian could have easily held a draw and advanced to the next stage.
White played a strange move 34.Nb1 which allowed Black to create his chances. 34.b4 would have ensured a draw.
58.Nc4 could have easily held a draw as 58...d3+ 59.Kd1 and Black cannot make a breakthrough from either side of the board. White played the only move which could have cost him the game which is 58.Nxf3.
Saduakassova - Goryachkina: 0.5-1.5
IM Dinara Saduakassova (KAZ) had a momentary lapse in concentration and blundered a complete rook in one move, which cost her the game. Thus, Aleksandra Goryachkina (RUS) secured her place in the Semi-Finals.
Lagno - Zhongyi: 0.5-1.5
Kateryna Lagno (RUS) misplayed in the endgame against Zhongyi Tan (CHN)
Find out the winning continuation for Black in the above position. Zhongyi not only secured her place in the Semi-Finals but also in the FIDE Women's Candidates 2022.
Gunina - Kosteniuk: 0-2
Gunina was forced to take some risks because she was in a must-win situation, a draw was as good as a loss. None of her risks paid off and Kosteniuk eventually won the game, advanced to the Semi-Finals and secured her place in the FIDE Women's Candidates 2022.
Highlights
Here is an interesting finish from Round 5.2
Photo Gallery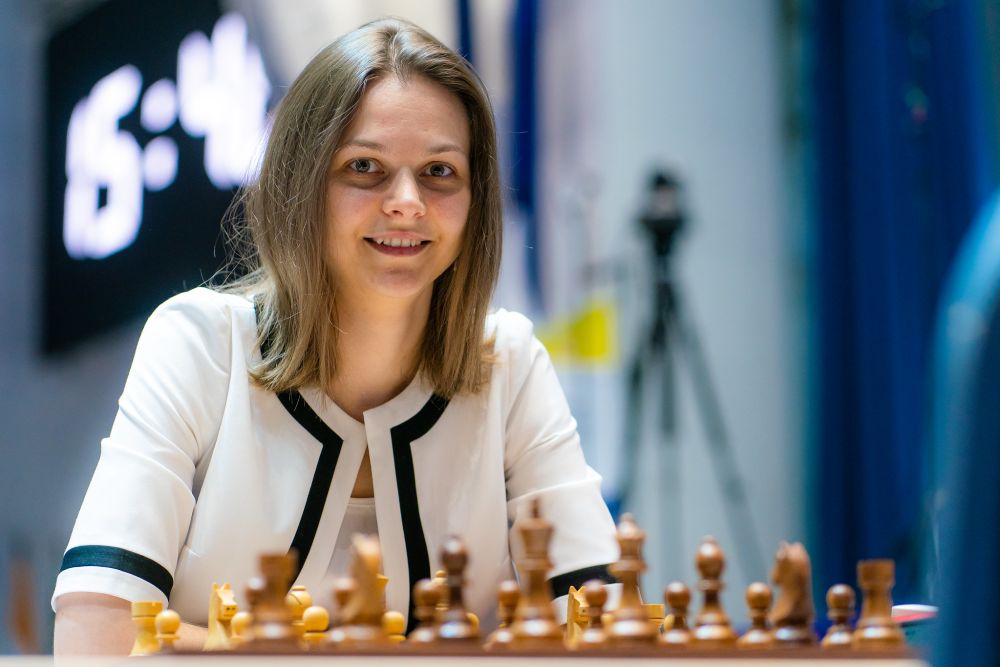 Replay Round 5.2 Open games
Replay Round 5.2 Women games
Links:
---