FIDE World Cup 2021 R3.1: Harikrishna, Vidit and Pragg score
Harikrishna, Vidit and Praggnanandhaa won their respective first game in the third round of FIDE World Cup 2021. They just need a draw in the second game to advance to the fourth round. Both Harikrishna and Praggnanandhaa played the endgame very well to score a victory each. Adhiban just tried to do too much which cost him the game against Vidit. Nihal, Adhiban and Harika must win today to force tie-breaks. Arguably the must-see game of the day is Dubov's win over Malakhov. The second game of Round 3 starts today at 5:30 p.m. IST. Watch the Live commentary and analysis on ChessBase India youtube channel with IM Sagar Shah and Amruta Mokal. Photo: Eric Rosen/FIDE
Adhiban, Nihal and Harika in a must-win situation
Adhiban's all-out play against Vidit did not pay off. Nihal missed a draw against super strong Dmitry Andreikin. Harika played way too passive against Gunina and lost the game. Adhiban, Nihal and Harika - all three of them now win on-demand today to force tie-breaks and keep their chances in the tournament.
Harikrishna - Lupulescu: 1-0
Harikrishna gained a pawn early in the middlegame against Romania no.1 GM Constantin Lupulescu.
14...Qa5 would have kept the b5-pawn alive, but 14...Qd7 drops the pawn immediately after 15.Rb1.
24...Rc3 is the final nail in the coffin for Black as 25.Qxc3 Bxc3 26.Rb8+ Qd8 27.Rxd8+ Rxd8 28.Kf1 and it's all over for the Romanian. Rest is just a matter of technique and we all know how strong Harikrishna is in the endgame.
Vidit-Adhiban: 1-0
Adhiban had a simple tactical oversight and lost a pawn for no compensation.
White can simply get rid of the defender of the e4-pawn 20.Bxf6 Bxf6 21.Bxe4 which is exactly what Vidit did. Instead, 19...Ng5 would have been fine for Black. Adhiban lost another pawn after a while and the position had no hope left for him, thus he resigned.
Nihal - Andreikin: 0-1
Nihal made the questionable choice of playing 1.b3 against FIDE World Cup 2013 runner-up and two-time Russian champion, GM Dmitry Andreikin. Somehow the choice turned out to be in his favor as Nihal got a good position out of the opening.
15.Qf3 would have been a slightly better choice as Black cannot take the e5-pawn with either of the pieces. 15...Qxe5 16.Qxe5 Nxe5 17.Nxe6 dxe6 18.Bxe5 and the position equalized.
The above position is equal, however it is White's game to lose, minimum there is a draw for Black. Find out what should White do here to make sure it ends in a draw. 35.Bc2 allowed Black the breakthrough which he wanted. A rare mistake by Nihal in the endgame which cost him the game.
Praggnanandhaa - Krasenkow: 1-0
Pragg's opponent GM Michal Krasenkow (POL) opted for the Petroff's Defense which is considered very solid and good to hold a draw with the black pieces, just like Berlin.
To understand what goes through Pragg's mind, you have to decipher the reason behind 25.g4. Since Black is not interested in defending the d5-pawn with a passive placement of the rook at d8, White is preparing his next plan, h4-g5, a prophylaxis.
White makes his intentions clear with 32.d5 as both c6 and e6-squares are now vacated, thanks to 31...f6. White is not bothered about losing the g5-pawn because the d5-pawn will be the deciding factor of the game.
How meticulously Pragg plays 35.Rb4. After 35...fxg5, he does not rush in taking on g6. First he goes 36.Ra4 because the queenside pawns are more important in this position. Pragg continues to showcase his beautiful understanding for the rest of the game to beat Krasenkow who has a wealth of experience and won the Platinum Crown, for the best game of Round 2.
Gunina - Harika: 1-0
Harika played extremely passive which cramped her pieces, against Gunina.
28...Qg8 does not seem comfortable for Black's pieces. Instead 28...exf4 29.Bxf4 d5 would have been a better practical attempt. Sure White has a bishop pair and Black has a pair of knights, still that would have given Black more chances than the text.
Extreme passive play by Black made 31.d4 to be extremely strong. Black has no good replies against it. Taking on d4 with either of the pawns was a better idea than 31...c4. It led to 32.hxg6 hxg6 33.fxe5 fxe5 34.Nh5 and it is over for Black.
Results:
Open
GM Vidit Gujrathi - GM B Adhiban: 1-0
GM P Harikrishna - GM Constantin Lupulescu (ROU): 1-0
GM Praggnanandhaa R - GM Michal Krasenkow (POL): 1-0
GM Nihal Sarin - GM Dmitry Andreikin (RUS): 0-1
Women
GM Valentina Gunina (RUS) - GM Dronavalli Harika: 1-0
Dubov - Malakhov: 1-0
Arguably the game of the day was played by the former World Rapid champion GM Daniil Dubov (RUS) who scored a beautiful win over compatriot GM Vladimir Malakhov (RUS).
Highlights
Here are a few interesting finishes from Round 3.1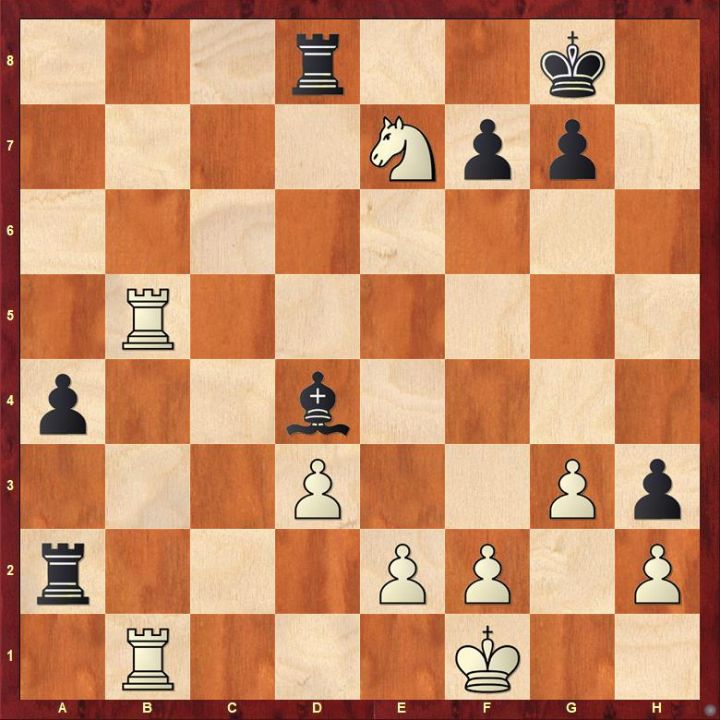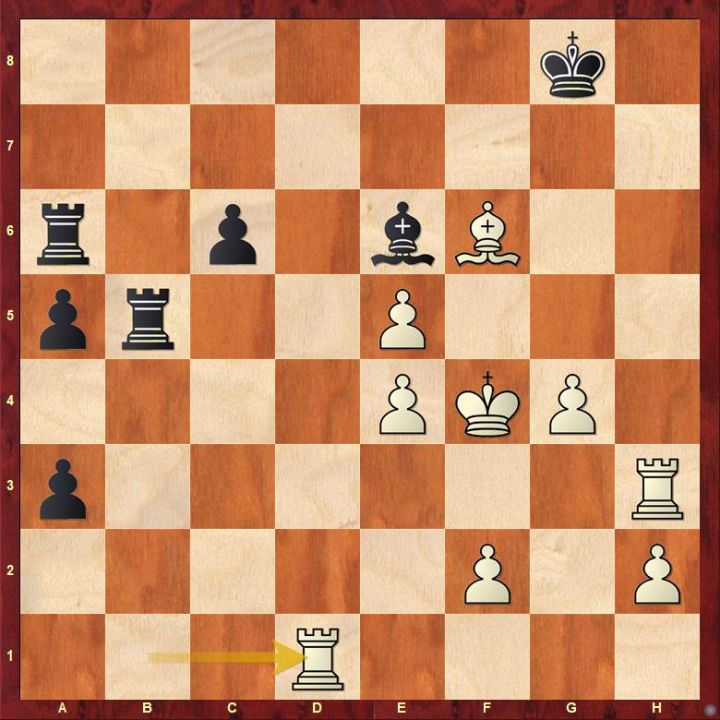 Photo Gallery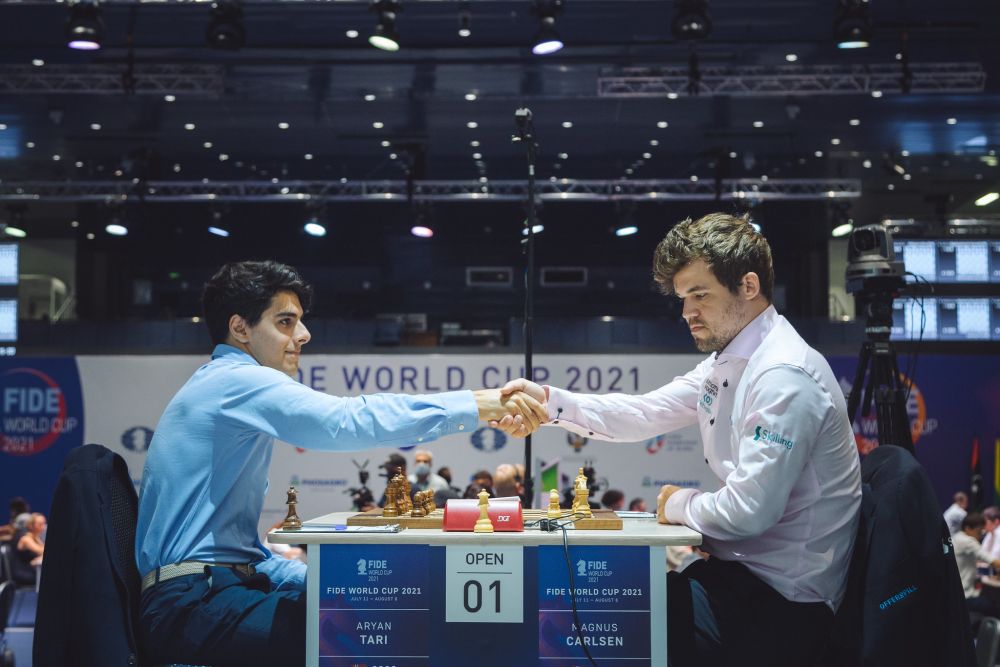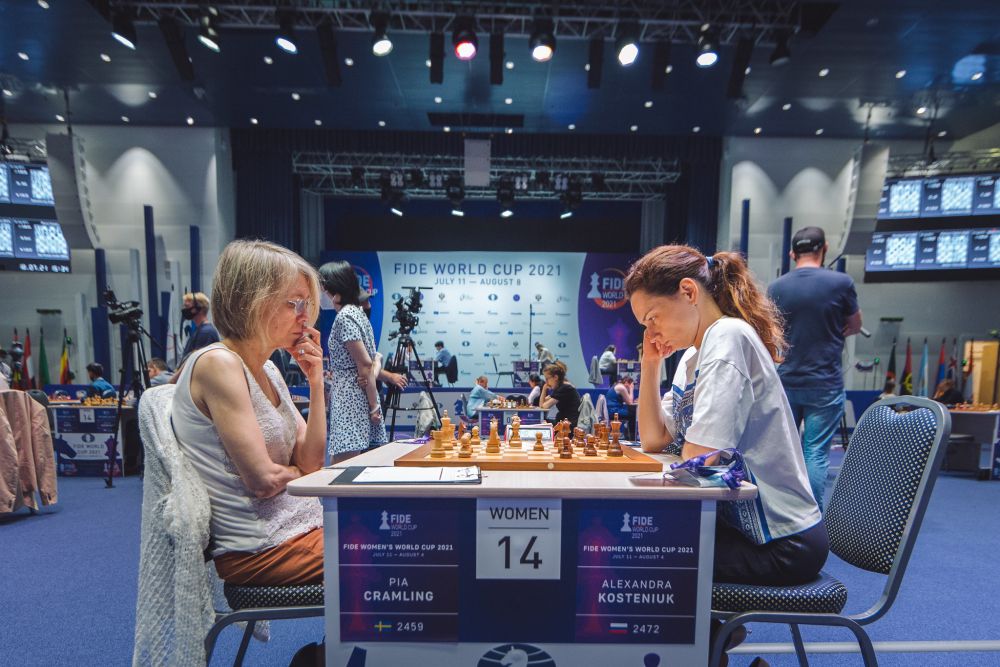 Replay Round 3.1 Open games
Replay Round 3.1 Women games
Links:
---