Tata Steel 2022 R11: Vidit Gujrathi holds Magnus to a draw in a thrilling rook endgame
Vidit Gujrathi continues his unbeaten streak against Magnus Carlsen in Classical chess as he drew their third encounter in the same format in Round 11 of 84th Tata Steel Chess. The India no.2 did not want to make a quick draw like many other games have happened in the event. He wanted to prolong the game which almost cost him in the end. The world champion was unable to spot the win, thus the game ended in a draw. Dubov had to leave the tournament as an official announcement was made about him testing positive for COVID-19. It means Magnus has only one more game to play against Caruana who defeated Praggnanandhaa. Both Arjun Erigaisi and Surya Sekhar Ganguly drew their respective games. Round 12 starts today at 6:30 p.m. IST. Photo: Lennart Ootes/Tata Steel Chess Tournament 2022
Arjun Erigaisi is one point away from clinching the Challengers
"I am more concerned about my own performance, to be honest. Today wasn't great. Obviously I got very very lucky with other circumstances that were out of my control. I just hope that Daniel is doing is fine. It seemed this morning that he was feeling okay and I really really hope he can make it to Berlin for the Grand Prix. The tournament was kind of ruined for him anyway. I think his biggest priority now is staying relatively healthy." - Carlsen on Dubov leaving the tournament due to testing positive for COVID-19 and his tournament situation.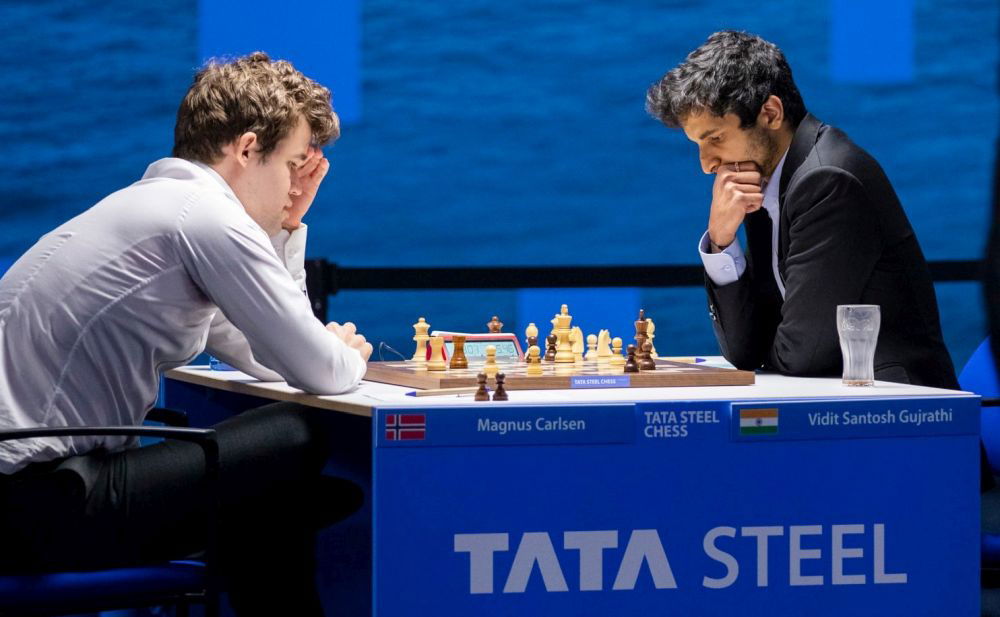 Magnus - Vidit: 0.5-0.5
Magnus Carlsen had a rare miss in the endgame against Vidit Gujrathi.
28...Nf4+ or Nf6 both are fine for Black. However, 28...Re8 helps white create a passed pawn on the d-file via 29.cxd5. Black was forced to recapture on e4 29...Rxe4+ 30.Kd3 and now Rxa4 only worsened things for Black. The game continued 31.d6 Kf7 32.Re1 Ra5 33.Kd4 Ra2 34.Kd5 Rd2+ 35.Kc6 b5
35...b5 created an opportunity to win for White. 36.Re7+ was the winning continuation for White. Magnus mentioned it to be not very obvious move in the post-match interview. The game headed towards a draw after 36.d7 Rc2+ 37.Kb6 Rb2 and Black was out of the woods.
Jorden - Giri: 1-0
Last year three games between Jorden van Foreest and Anish Giri ended in draws - one classical and two blitz games in the Playoffs. Jorden won the Armageddon to clinch the 83rd Tata Steel Chess 2021. The rematch between them was definitely one of the most anticipated games of the tournament.
Jorden knows his opponent's style very well. When the opportunity arose to throw his opponent off balance, he pounced on it. 16.Rxf6 is an excellent exchange sacrifice. It is certainly one for the books. It does not give White an immediate victory, however what White gets is a long-term advantage. 16...gxf6 17.Qf3 Qc6 18.d5 Qd6 19.Nf1 and Black has to defend his inferior position for the rest of the game.
Black's position being difficult almost forced him to make further mistakes like 27...Bxh3. The position spiralled out of control after 28.Bh5 Bd7 29.Bxg6 fxg6 30.Bxf6+ now White is completely winning.
Jorden made a beautiful finish with 42.Rh3. Black cannot take it because 42...Bxh3 is met with 43.d7 and White is winning.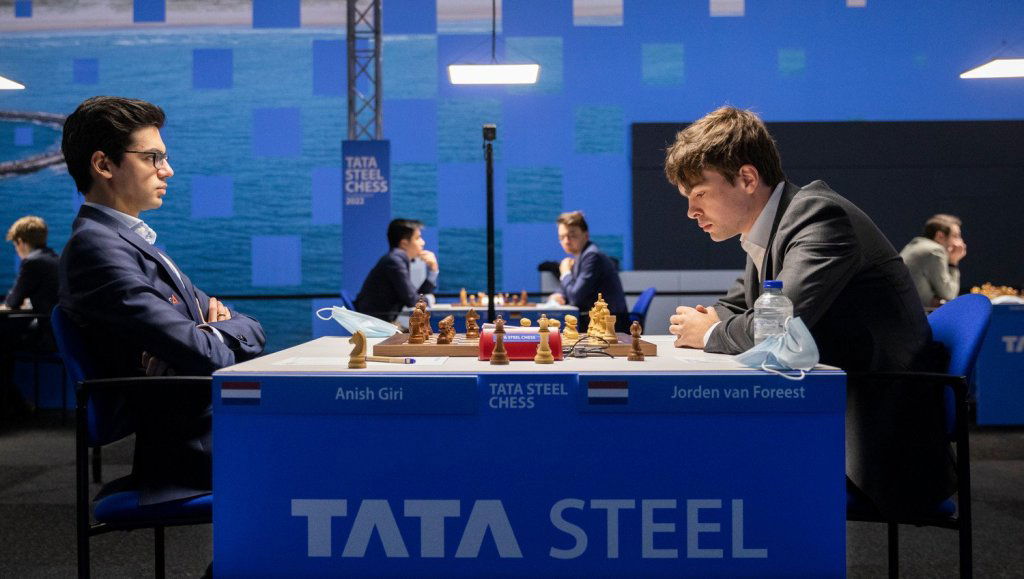 Praggnanandhaa - Caruana: 0-1
A slight positional inaccuracy by Praggnanandhaa turned things completely in Caruana's favor.
23.Nd4 became the turning point of the game. White needed to play 23. Ng3 instead. 23...dxc4 24.bxc4 bxa4 25.Qxa4 the resultant passed pawn on the a-file eventually proved to be the deciding factor.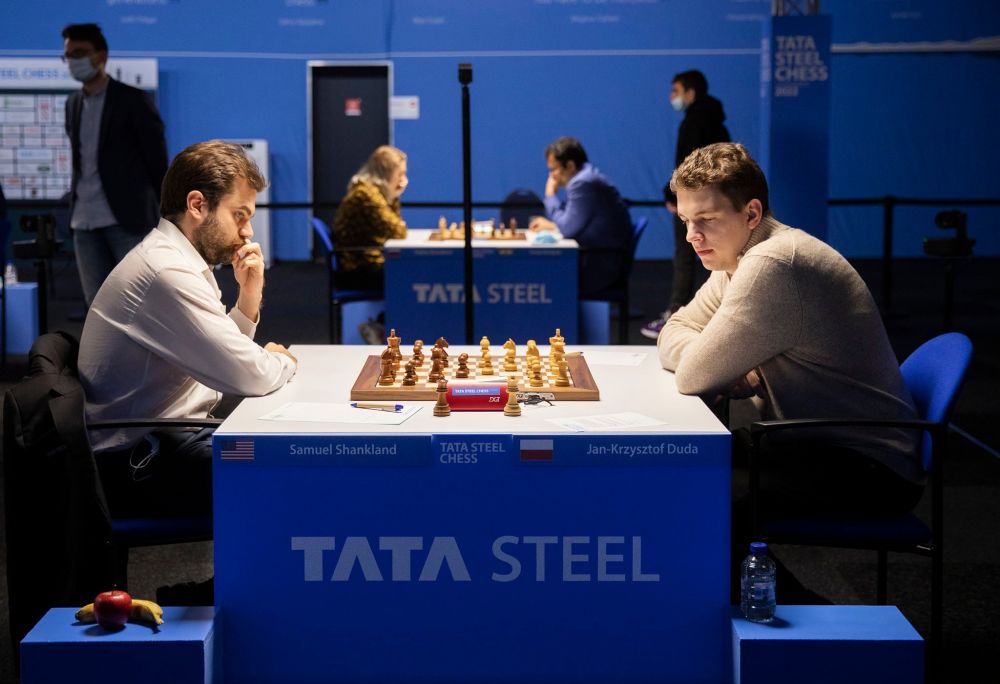 Sam Shankland on his game
Duda also tweeted few words
Dubov was tested positive and had to leave the 84th Tata Steel Chess 2022 tournament. Here is the official announcement:
Daniil Dubov will leave the Tata Steel Chess Tournament after testing positive for the corona virus in a PCR test yesterday. This means that the results of his previous matches will stand and that Dubov will forfeit the games against the opponents he was to face in the last three rounds. They are Rapport, Praggnanandhaa and Carlsen respectively.
Tournament director Jeroen van den Berg: "I feel sad for Daniil that he now has to leave our tournament. The whole organisation of the Tata Steel Chess Tournament feels for him, wishes him all the best in these trying times and hopes that the remainder of the year will bring him sporting success."
Dubov appeared in the chess24 live broadcast and talked with GM Jan Gustaffson and GM Peter Svidler
Replay Round 11 Masters games
Replay Round 11 Challengers games
Round 11 results
Round 12 pairings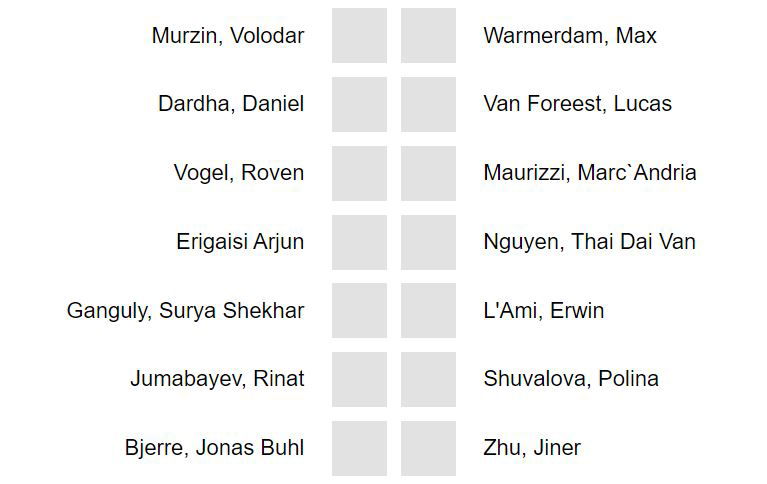 Standings after Round 11
Schedule
Starting from Saturday 15th January, all round starts at 6:30 p.m. IST, only Sunday 30th January, the final round will start at 4:30 p.m. IST. Rest days are - 19th, 24th and 27th January.
Time Control
100 minutes for 40 moves, followed by 50 minutes for 20 moves, then 15 minutes for the remaining moves with 30 seconds cumulative increment for each move starting from the first move.
Links
---