Tata Steel 2022 R9: Too strong Arjun Erigaisi is two points ahead
Arjun Erigaisi has been playing at a whole different level this entire tournament. He defeated WGM Jiner Zhu to increase his lead by two points 8.0/9 at Tata Steel Chess Challengers 2022. Rinat Jumabayev and Thai Dai Van Nguyen are in the chase at 6.0/9 each. Magnus regained his sole lead 6.5/9 as he beat Mamedyarov. The Azeri's exchange sacrifice did not pay off. Anish scored his second consecutive victory and fourth full point to move to sole second position 6.0/9. Vidit drew with Rapport to be in shared third position along with Mamedyarov 5.5/9. Round 10 starts today at 6:30 p.m. IST. Photo: Jurriaan Hoefsmit/Tata Steel Chess Tournament 2022
Magnus regains sole lead
"He is playing really really well, the last few days. He is also showing tremendous will to win, picking a free point instead of playing games on free days for instance which shows that you really really want to win the tournament. (laughs)" - Magnus on Giri being just a half point behind him. Even the world champion also takes a friendly jab at his arch nemesis for not opting for a game on the rest day.
Magnus - Mamedyarov: 0.5-0.5
Magnus opted for the Catalan for the third time in this tournament. The result has remained the same in all three games.
Mamedyarov decided to sacrifice an exchange as he went 14...cxb5. Instead, 14...Nb4 15.Qe4 cxb5 would have been a decent alternative. The game continued 15.Nxd5 exd5 16.Bxa5 Nc6 17.Bxb6 Qxb6. Black did not get any compensation for it and resigned after another ten moves.
Giri - Shankland: 1-0
Sam Shankland ended up on the wrong end of a rook and bishop vs. rook and knight with only a pawn exchanged endgame. He sacrificed a pawn to corner his opponent's bishop.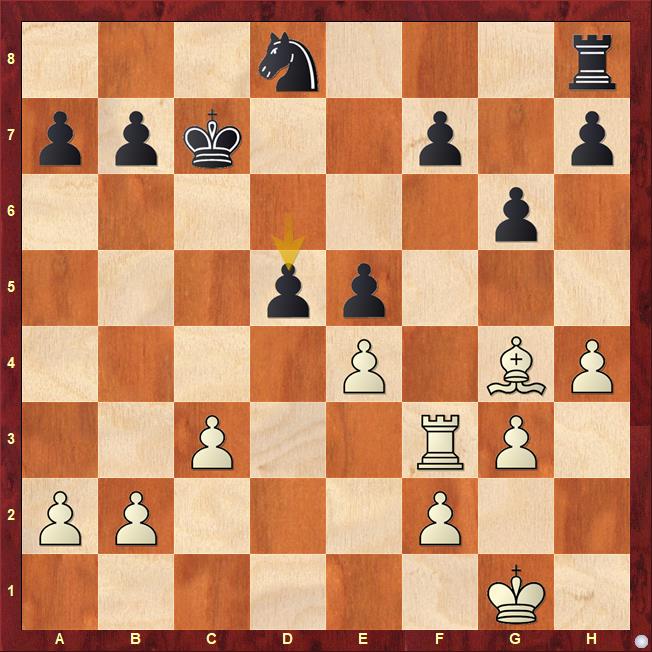 21...d5 did not help Black's position. 22.exd5 f5 23.Bh3 Kd6 24.c4 b6 25.g4 and it's all over for Black. 21...Rf8 22.Rf6 b6 was a passive way to continue the fight.
Praggnanandhaa - Karjakin: 0-1
Sergey Karjakin declined a threefold repetition and gambled big in the endgame against Praggnanandhaa.
Black took a risk 33...h5. After 34.gxh5+ Kf5 35.Nb4 Rxe3 36.fxe3 Ke4 37.Nxc6 Rc8 38.Na7 Ra8 39.Nb5 Kxe3 White needed to play 40.h6 to draw the game. Unfortunately, Pragg opted for 41.c6 and it was completely winning for Black.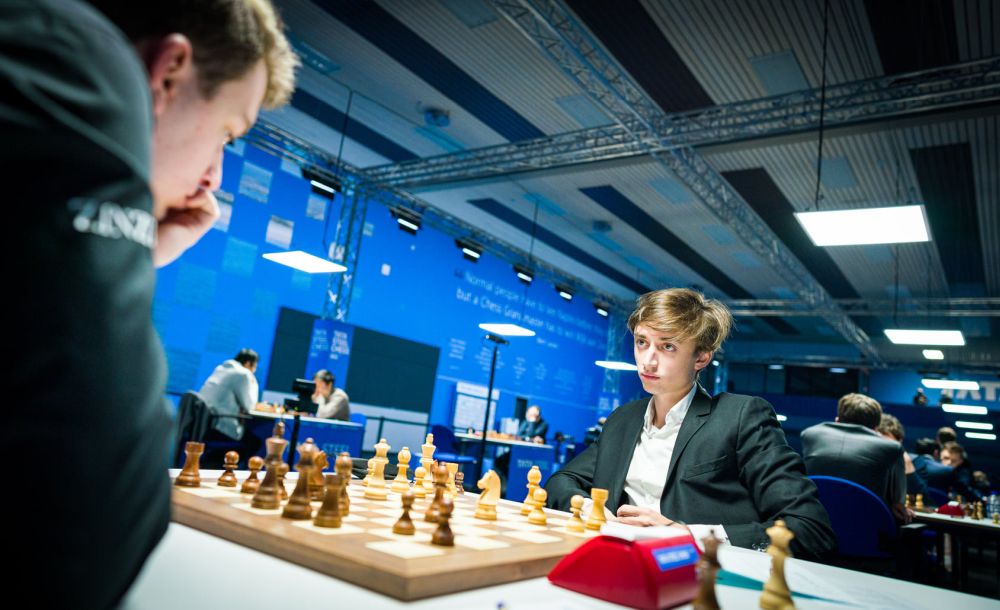 Jiner - Arjun Erigaisi: 1-0
GM Arjun Erigaisi scored his seventh victory of the event to increase his lead by two points. WGM Jiner Zhu got an opportunity to fight back in the endgame.
40.Rf6 keeps fighting chances for White. For e.g. 40...Rb5 41.g4 fxg4 42.fxg4 Ka3 43.Kg3 and White is still in the game. 40.Rg5 loses a valuable tempo for White.
France's youngest GM, 14-year-old Marc Andria Maurizzi checkmated Lucas van Foreest's king at its original square.
Replay Round 9 Masters games
Replay Round 9 Challengers games
Round 9 results
Round 10 pairings
Standings after Round 9
Schedule
Starting from Saturday 15th January, all round starts at 6:30 p.m. IST, only Sunday 30th January, the final round will start at 4:30 p.m. IST. Rest days are - 19th, 24th and 27th January.
Time Control
100 minutes for 40 moves, followed by 50 minutes for 20 moves, then 15 minutes for the remaining moves with 30 seconds cumulative increment for each move starting from the first move.
Links
---