Tata Steel 2022 R5: Arjun Erigaisi increases his sole lead by a full point
Vidit Gujrathi drew with Anish Giri in Round 5. Shakhriyar Mamedyarov beat defending champion Jorden van Foreest and Richard Rapport won against Praggnanandhaa in a complex and interesting battle. Both Mamedyarov and Rapport joined Vidit in a three-way lead 3.5/5 at 84th Tata Steel Chess 2022. Arjun Erigaisi scored his fourth consecutive victory to increase his sole lead by a full point, 3.5/5. Three players - Thai Dai Van Nguyen, Rinat Jumabayev and Surya Sekhar Ganguly are at 3.5/5 each. Surya scored his second win of the event against IM Roven Vogel. Round 6 starts today at 6:30 p.m. IST. Photo: Lennart Ootes/Tata Steel Chess Tournament 2022
Mamedyarov and Rapport join Vidit at the top
The fifth round also had two decisive games in the Masters section, just like the previous round. Magnus Carlsen managed to recover things from an uncomfortable position against Nils Grandelius. Jan-Krzysztof Duda was completely winning against Sergey Karjakin in the final moments. However, time control conundrum got the best of him and he had to settle for a draw by repeating moves. Fabiano Caruana also seemed to be much better in the endgame. However, his opponent Andrey Esipenko salvaged a draw.
Anish - Vidit: 0.5-0.5
Vidit opted for the solid Petroff with the black pieces. When the opportunity arose, he pushed his pawn in front of his castled king.
While 16..h5 may look worrisome for White, it is not as menacing as Black wants it to be. The game continued 17.Rad1 h4 18.Nd2 Qh7 19.Nxe4 Bxe4 20.Bxe4 Qxe4 21.Qxe4 Rxe4 22.Nc3 Re7 23.h3 and White managed to eliminate all possibilities of an attack on the kingside. 17.h4 was an interesting option for White.
Grandelius - Magnus: 0.5-0.5
Magnus Carlsen got into a bit of trouble early in the game against Nils Grandelius. 18...d5 was a bold choice by the world champion who wanted to sacrifice a pawn to get a better long-term king safety as mentioned by his opponent in a post-match interview.
Black's position seemed slightly uncomfortable after 19.Bxb5+ Kf8. Computer recommends 20.Qb4+ Kg8 21.Qb3 to be substantially better for White. However, the game continued 20.Ba4 d4 21.Bb3 Nf7 and Black managed to get out of trouble.
Jorden - Mamedyarov: 0-1
Jorden van Foreest's ambitious play against Shakhriyar Mamedyarov did not turn out to be fruitful for him. The defending champion suffered his second loss of the event and his opponent scored second consecutive victory to join the lead.
21.Nf7 did not work things in White's favor as Black sacrificed an exchanged 21...Rxf7 22.exf7+ Bxf7 23.Nxf5 c4 24.Bxc4 Nxf5 25.Bxa6 Nd6 and Black is absolutely fine.
Rapport - Praggnanandhaa: 1-0
Rapport's encounter against Praggnanandhaa was the most complex and thrilling game of the day. Rapport thrives in that area, as can be seen from the game. He gets to be all creative in the game.
The above diagram is a critical moment of the game. 17...d3 is what set the tone for the rest of game. Although Black has a strong center and White's kingside pieces may seem to be lacking space, it is White's pawn mass on the queenside which eventually proves to be fatal. While 17...d3 seems to be quite logical for a human, computer condemns it and prefers 17...Ne5 to be the better alternative. It is definitely remarkable to see the rest of the game where the World no.11 converted his advantage beautifully to score a victory and become World no.9 in live ratings.
Duda - Karjakin: 0.5-0.5
Jan-Krzysztof Duda had an unexpected result in an interesting game against Sergey Karjakin.
The FIDE World Cup 2021 winner mentioned in his instagram post, that it was not easy to find the best way to continue with only two minutes left on the clock and four moves to make. Well, had he found 37.Rf1, the outcome of the game would have certainly been a different one.
Arjun Erigaisi - Murzin: 1-0
GM Arjun Erigaisi got a pleasant position out of the opening against IM Volodar Murzin.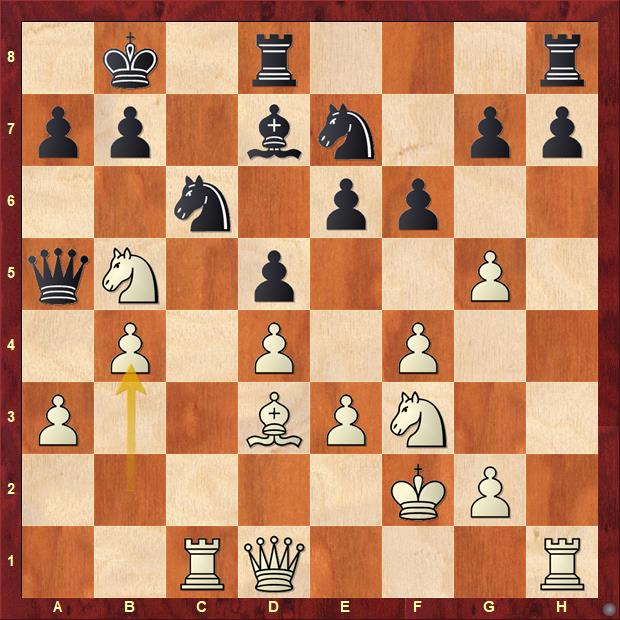 When someone is in top form and gets a great position like this, it is quite obvious that he will convert it into a win.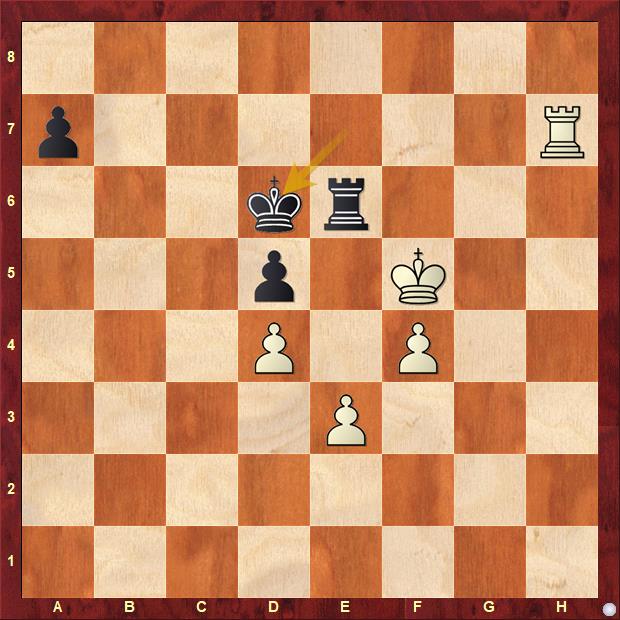 A critical moment in the rook ending. Shall White take a7-pawn or not?
Surya - Vogel: 1-0
GM Surya Sekhar Ganguly invaded with his rook in a rook and knight vs rook vs bishop endgame. IM Roven Vogel did not respond correctly and his opponent used his wisdom to make the most out of it.
36...Rc7 37.Rd8 Bd7 ensures Black does not drop a pawn. In the game, Black played 36...Bd7 37.Rb8 Be8 38.Rd8 Bd7 39.Nf3 Kf6 40.Rf8+ Kg6 41.Rg8+ and Black lost a pawn, eventually the game too.
Replay Round 5 Masters games
Replay Round 5 Challengers games
Round 5 results
Round 6 pairings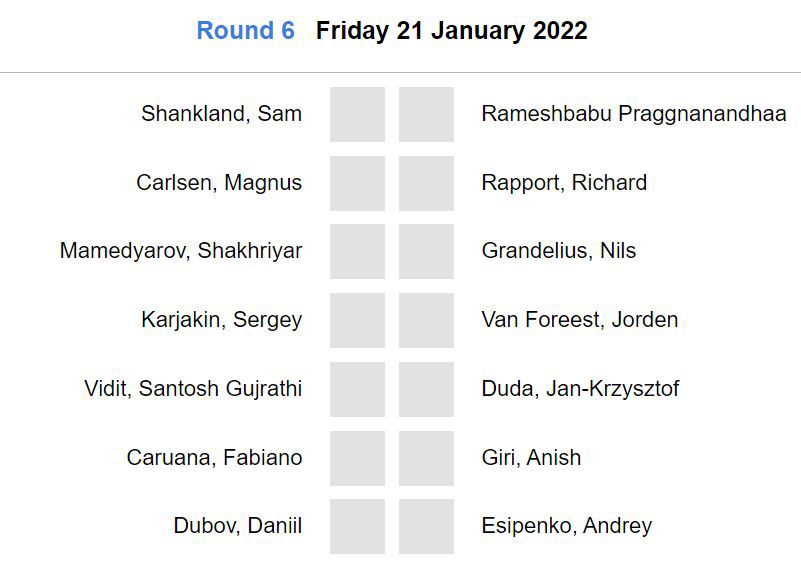 Standings after Round 5
Schedule
Starting from Saturday 15th January, all round starts at 6:30 p.m. IST, only Sunday 30th January, the final round will start at 4:30 p.m. IST. Rest days are - 19th, 24th and 27th January.
Time Control
100 minutes for 40 moves, followed by 50 minutes for 20 moves, then 15 minutes for the remaining moves with 30 seconds cumulative increment for each move starting from the first move.
Links
---