Tata Steel 2022 R3: Defiant Vidit defeats Dubov, takes sole lead, now World no.19
Vidit Gujrathi definitely played one of the best game of his career to beat Daniil Dubov in Round 3 of 84th Tata Steel Chess 2022. He had to play a series of only moves to survive a tough duel against the former World Rapid champion, who was unable to find a draw in the final moments. Later Vidit walked his king all the way from d8 to d2, which he does not think to be the highlight of the game in his fantastic victory. It earned him a sole lead 2.5/3. Arjun Erigaisi defeated Daniel Dardha to be in a three-way lead along with GM Thai Dai Van Nguyen and IM Volodar Murzin. Praggnanandhaa lost his first game of the event against defending champion Jorden van Foreest, Surya Sekhar Ganguly drew with Max Warmerdam. Round 4 starts today at 6:30 p.m. IST. Photo: Lennart Ootes/Tata Steel Chess Tournament 2022
Arjun Erigaisi in a three-way lead 2.5/3
The third round witnessed the maximum number of decisive games in both Masters and Challengers section. Vidit's win is undoubtedly the highlight of the day. He showed brilliant defense and his tenaciousness to pull off an incredible lead which put him in the sole lead 2.5/3, ahead of Duda, Carlsen, Esipenko, Rapport and Jorden who are at 2.0/3. Arjun Erigaisi scored a nice victory to be one of the co-leaders in the Challengers section.
Dubov - Vidit: 0-1
Daniil Dubov sacrificed a pawn at the center of the board, which Vidit Gujrathi gladly accepted and then played ambitiously to gain more control in the center.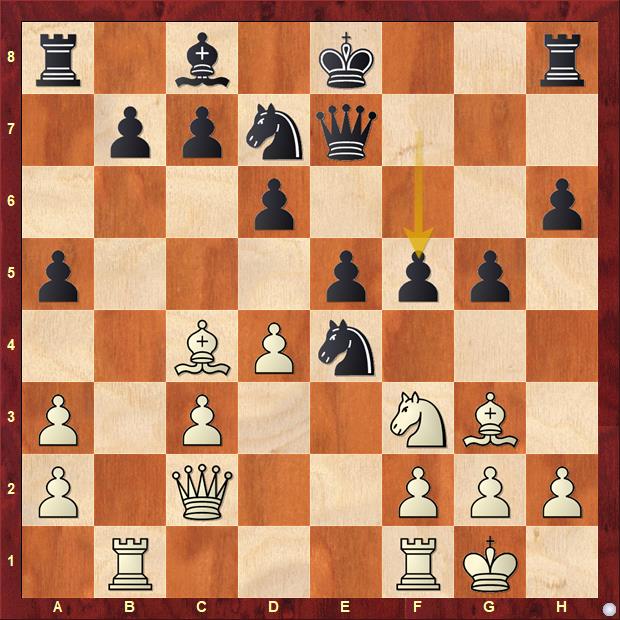 14...f5 is quite a logical move if Black is not willing to take on g3 which is the only other option. Soon Black landed himself in a great difficulty where he had to find the correct resources which were the only moves in the position.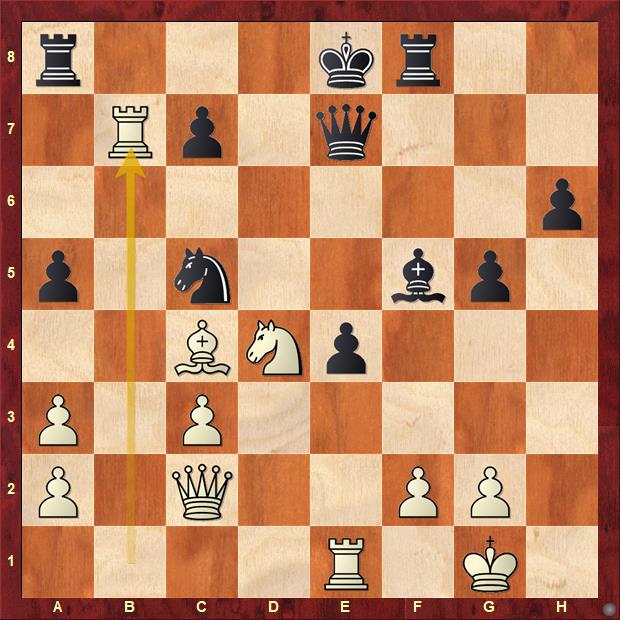 White is making a deadly threat 22.Bb5+ followed by Nxf5 and gain material. Try to find out the only move for Black to save the game. 21...Nxb7 does not work either as once again White executes his plan 22.Bb5+ Kf7 23.Nxf5 with a devastating attack.
Re5 is what Black needs to play, however playing the move immediately causes him to lose the game. Instead, Black needs to find the intermediate move 25...Rd1+ only after 26.Kh2 Black is safe to play 26...Re5. The struggle continued 27.Qc6+ Kd8 28.Qa8+ Kd7 and black king's long walk to freedom begins. One misstep will be a fatal blow for Black. 29.Bb5+ Ke6 30.Qc8+ Kf6 31.Qh8+ Kf5 and White had one last chance to save the game.
Can you find out how White could have saved the game after 31...Kf5 ? The game went on 32.f3 which turned the tables in Black's favor 32...Rxe4 33.fxe4+ Kxe4 34.Qa8+ Ke3 35.Bc6 Qe5+ 36.g3 g4 37.Qa7+ Kd2 and Black deservedly won the game.
Vidit tweeted on his game
Jorden - Praggnanandhaa: 1-0
Praggnanandhaa seemed to be doing well as he had a strong pawn mass at the center of the board. He made an unforced error by sacrificing a pawn, weakening the center pawn mass against the defending champion, Jorden van Foreest.
25...f3 was uncalled-for. Instead, 25...Qf8 or a5 were the viable options. To justify the pawn sacrifice, Black had to play some more inaccurate moves, which resulted his position in complete disarray.
Esipenko - Karjakin: 1-0
Sergey Karjakin decided to take a chance in the endgame which did not pay off against Andrey Esipenko.
31...Re7 and everything would have been fine for Black. However, Karjakin decided to sacrifice his bishop with the hope of getting it back for his eventual passed pawn on the a-file. 31...Reb8 did not help Black's case as 32.Nxd7 Nxd7 33.Rxd7 Rxb2 34.Re2 a3 35.Rd1 a2 36.Ra1 and White is completely winning as his opponent does not have enough compensation for the bishop.
Grandelius - Rapport: 0-1
Richard Rapport scored an academic victory over Nils Grandelius after the latter was unable to put up any resistance against the Hungary no.1's simple yet effective attack.
Black's plan is very simple - to exploit the dark square weakness on the queenside and he was able to do it without any difficulty.
Arjun Erigaisi - Dardha: 1-0
Arjun Erigaisi got himself a pleasant position out of the opening against Belgium no.3, Daniel Dardha.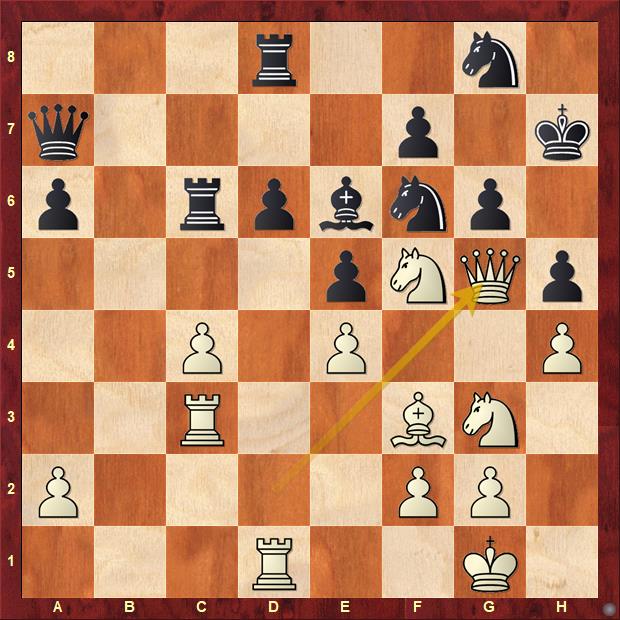 Black should not take on f5 by any means. 31...Rd7 is fine for Black even after 32.Nxh5 Ne8 holds the fort. However, 31...Bxf5 is exactly what White was hoping for 32.exf5 Rcc8 33.Be4 Nxe4 34.Nxe4 Qe7 35.Rg3 Qxg5 36.Nxg5+ Kh6. Black might have exchanged a few pieces to reduce the attack, however the position is beyond salvation for him.
Replay Round 3 Masters games
Replay Round 3 Challengers games
Round 3 results
Round 4 pairings
Standings after Round 3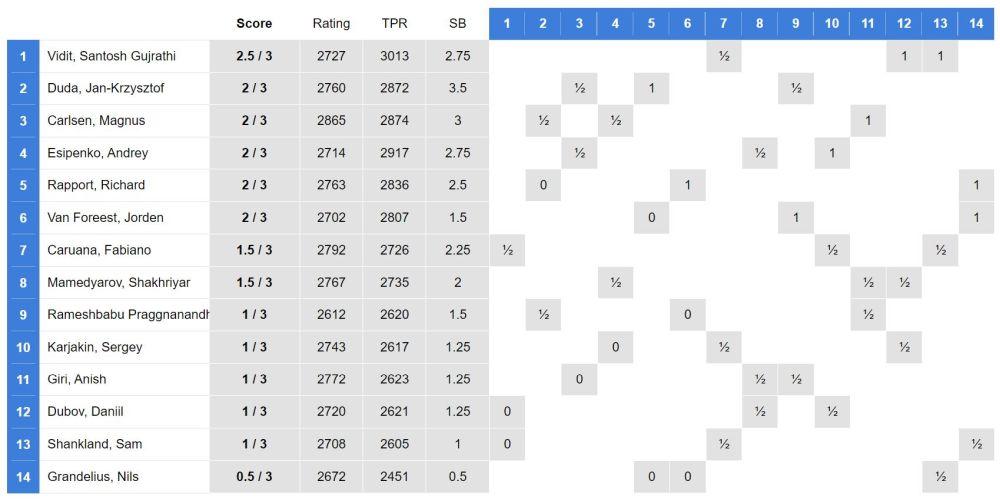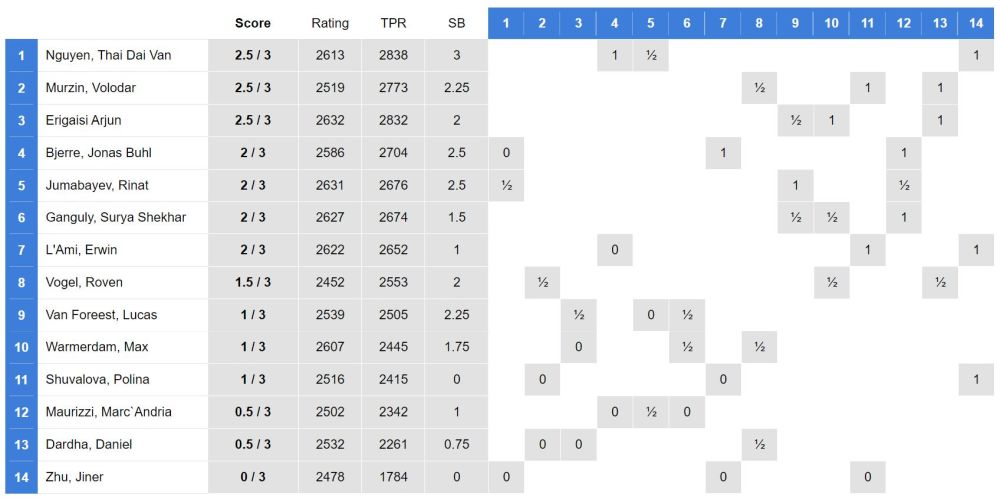 Schedule
Starting from Saturday 15th January, all round starts at 6:30 p.m. IST, only Sunday 30th January, the final round will start at 4:30 p.m. IST. Rest days are - 19th, 24th and 27th January.
Time Control
100 minutes for 40 moves, followed by 50 minutes for 20 moves, then 15 minutes for the remaining moves with 30 seconds cumulative increment for each move starting from the first move.
Links
---