Tata Steel 2022 R7: Dubov stands by his principle
Arjun Erigaisi saved a difficult position to draw his game against Rinat Jumabayev. He maintains his sole lead, 6.0/7. The seventh round of Tata Steel Chess 2022 witnessed maximum decisive results which includes a forfeit by Dubov who refused to wear a mask during his game. In the official statement by Tata Steel Chess, it was mentioned that someone in his inner circle tested positive, Dubov went through a quick scan test which turned negative, however the result of PCR test was yet to come. Magnus Carlsen won the first-ever over-the-board game against Praggnanandhaa. Jorden beat Vidit and Mamedyarov drew his game against Rapport allowing Magnus to take sole lead for the first time in this event 5.0/7. Round 8 starts today at 6:30 p.m. IST. Photo: Lennart Ootes/Tata Steel Chess Tournament 2022
Magnus Carlsen gains sole lead
The seventh round had eight decisive games in total. Magnus, Caruana and Jorden won their respective games in the Masters section, Jonas, Dardha, Warmerdam, Lucas and Thai Dai Van were the winners in the Challengers. Duda-Caruana encounter was an interesting one.
Praggnanandhaa - Magnus: 0-1
Magnus opted for Queen's Gambit Accepted against Praggnanandhaa. During the middlegame, Pragg made an inaccurate positional decision which turned things in his opponent's favor.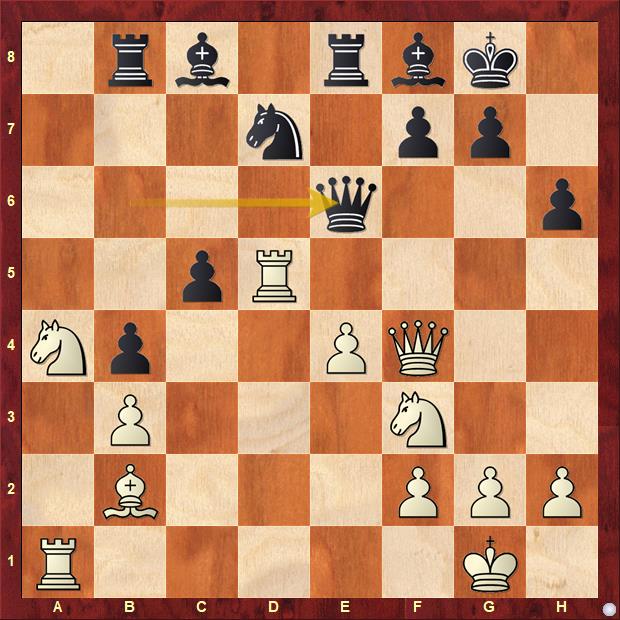 White needed to play 23.Nxc5 Bxc5 24.Rxc5 Nxc5 25.Qxb8 Qxb3 26.Bd4 Nxe4 27.h3 and the position is equal according to computer. It is quite understandable why he might have rejected this line considering Black gets a passed pawn on b4. The game continued 23.Rad1 Ra8 24.Qc1 Qxe4 25.h3 Ra7. White has no compensation for the lost pawn and Black won the game in another nine moves.
Rapport - Mamedyarov: 0.5-0.5
Shakhriyar Mamedyarov defused things immediately, just when Richard Rapport was aiming to create havoc.
White is threatening 22.h6 followed by Qg7 checkmate. Find out the best way for Black to thwart this attempt.
Jorden - Vidit: 0-1
Jorden van Foreest and Vidit Gujrathi were having a solid game which seemed to have headed towards a draw.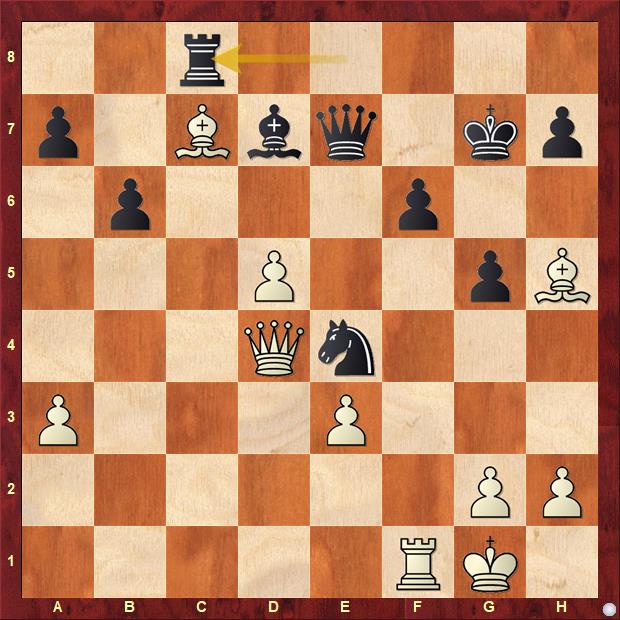 Black erred in the final moments of the game, 36...Rc8. Try to find out why it was a mistake and what Black should have done instead.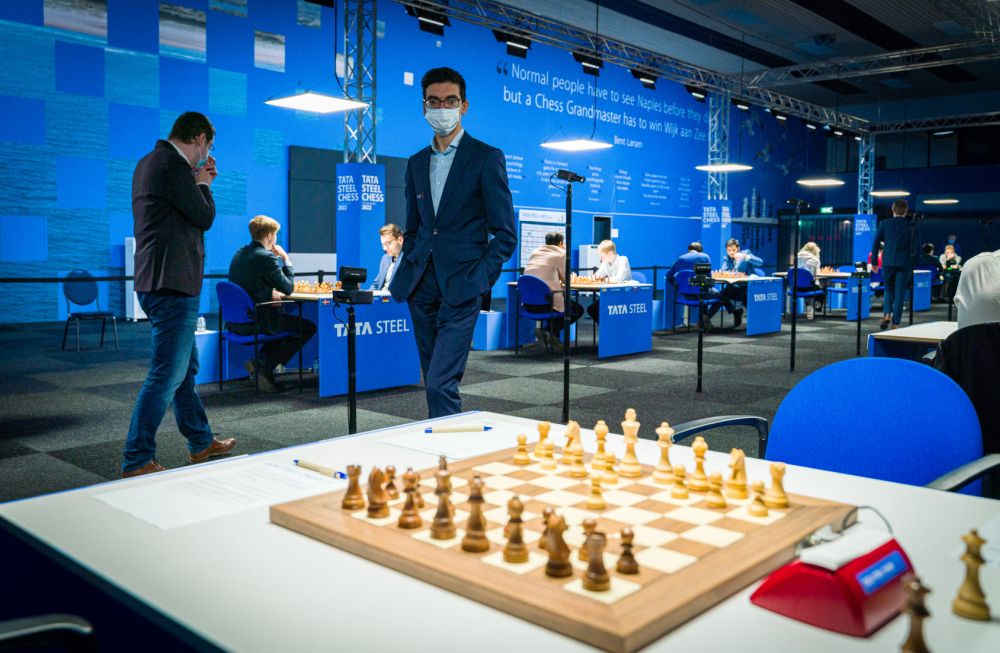 The official statement by Tata Steel Chess with regards to Dubov's absence from Round 7
How the chess world reacted
Daniil Dubov's Round 7 opponent Anish Giri
World Championship 2021 Challenger Ian Nepomniachtchi shared in his Telegram channel: "To paraphrase Gary Lineker, everyone plays chess, but Dubov is always discussed. It is difficult to talk about the correctness of the decision without knowing the whole situation and the terms of the contract. It is a pity that a compromise could not be found. In any case, Daniel acted in accordance with his principles, and at least in this he is right. I only hope that the tournament will end in full force." (Translated from Russian to English using Google translator).
Sergey Karjakin voiced full support to Dubov
The legend, Nigel Short tweeted
Daniil Dubov is a World Rapid 2018 champion. He is known to be a very creative and principled person, both on and off the board. He refused to wear a mask during the game because there was a previous agreement that masks would not be required. These are definitely challenging times for both organizers and the players. What are your thoughts on this entire situation?
Replay Round 7 Masters games
Replay Round 7 Challengers games
Round 7 results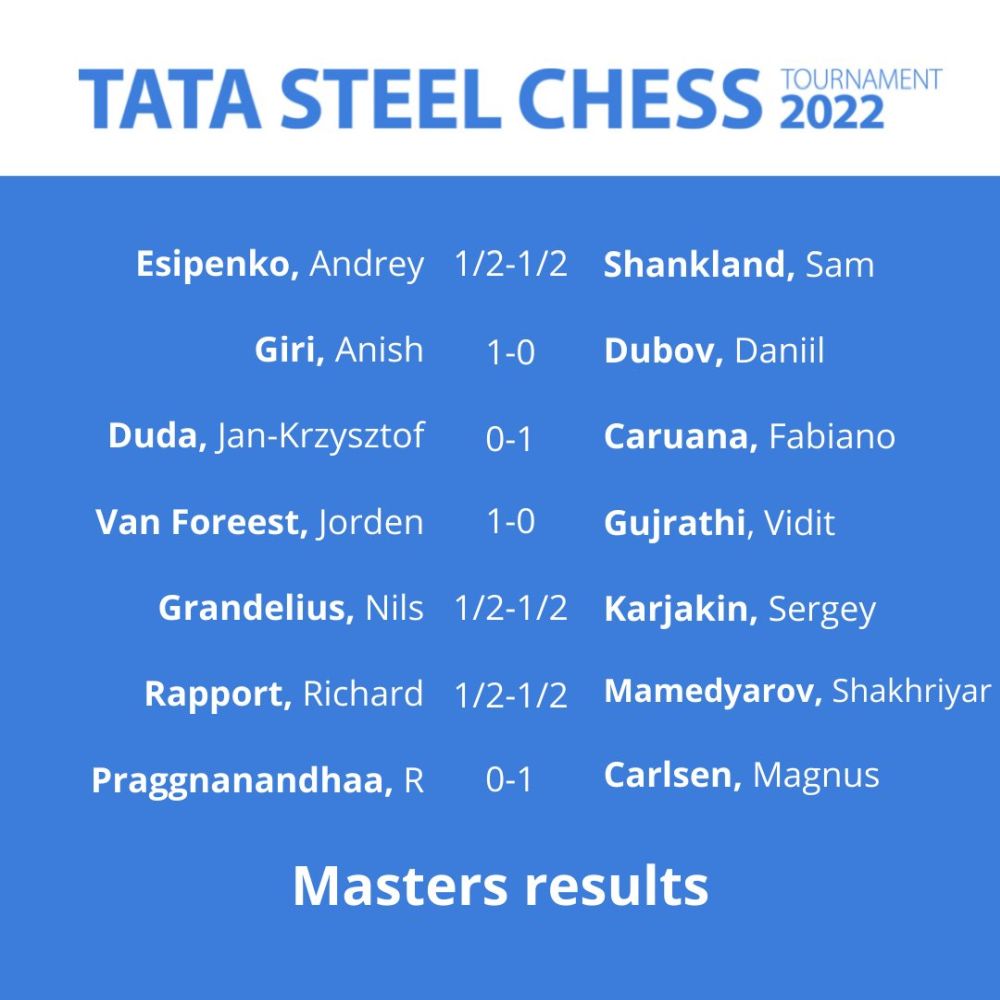 Round 8 pairings
Standings after Round 7
Schedule
Starting from Saturday 15th January, all round starts at 6:30 p.m. IST, only Sunday 30th January, the final round will start at 4:30 p.m. IST. Rest days are - 19th, 24th and 27th January.
Time Control
100 minutes for 40 moves, followed by 50 minutes for 20 moves, then 15 minutes for the remaining moves with 30 seconds cumulative increment for each move starting from the first move.
Links
---