Tata Steel 2022 R6: Unstoppable Arjun Erigaisi wins again, storms into World Top 100
Arjun Erigaisi beat fellow countryman Surya Sekhar Ganguly to register his fifth consecutive win in the sixth round to extend his lead by 1.5 points at Tata Steel Chess 2022 in the Challengers section. This win allowed him to break into the World Top 100. For the very first time, India now has eight players among them. Thai Dai Van Nguyen and Rinat Jumabayev are the closest rivals at 4.0/6 each. Vidit Gujrathi drew with Jan-Krzysztof Duda to maintain his lead 4.0/6 in the Masters. Shakhriyar Mamedyarov also drew his game. They are now joined by Magnus Carlsen who defeated Richard Rapport to get into the three-way lead. Round 7 starts today at 6:30 p.m. IST. Photo: Lennart Ootes/Tata Steel Chess Tournament 2022
Magnus Carlsen joins Vidit and Mamedyarov in a three-way lead
The sixth round had six decisive games in total. Magnus, Karjakin and Giri were the victors in the Masters section, Arjun Erigaisi, Lucas van Foreest and Max Warmerdam in the Challengers. Anish Giri's win against Fabiano Caruana was arguably the most exciting game of the day.
Magnus - Rapport: 1-0
Magnus played the Catalan opening against Rapport.
Black deciding to give up the d4-pawn for no compensation was not the correct idea. Magnus in the post-match interview also mentioned that there is not much for Black to go on after giving up the d-pawn, flank pawns are dangerous in general anyway. Instead, 20...Ne5 was a better alternative. 20...Qe7 21.a4 Rfd8 22.Qxd4 Rb4 23.Qc3 Nb6 24.a5 Qa7 25.Qe3 and soon the passed a-pawn was instrumental in White scoring the full point.
Vidit - Duda: 0.5-0.5
Vidit Gujrathi is yet to beat Jan-Krzysztof Duda in an over-the-board tournament game. His sole victory was in New in Chess Classic Prelims last year, part of Meltwater Champions Chess Tour 2021.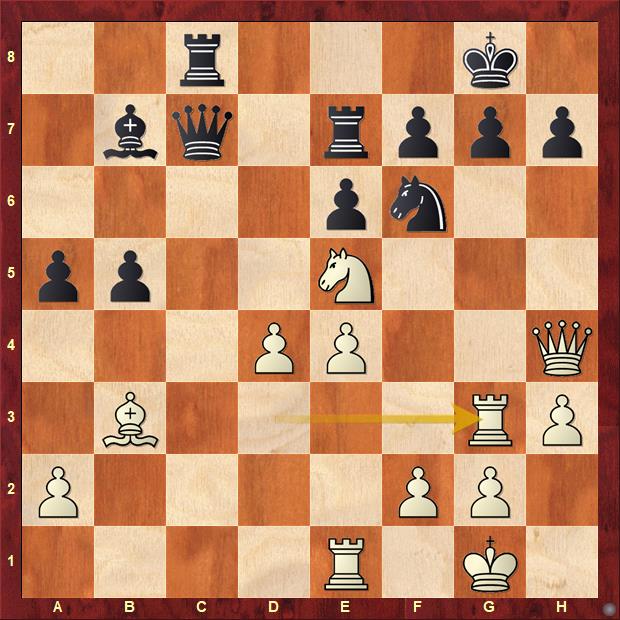 Just when it seemed like trouble started brewing, Duda doused any chances White could create 21...Nxe4 22.Rxe4 Nxe4 23.Qxe4 a4 24.Bd1 f6 25.Nd3 Qd6. Black is completely out of the woods. The game ended in a draw after few more moves.
Caruana - Giri: 0-1
The game between Fabiano Caruana and Anish Giri was probably the most interesting game of the day. It was a complex back and forth encounter.
Perhaps White's best chance in the game was to continue his build on the kingside 31.Ng4 Bg5 32.Bc1 h5 33.Nf6+ Bxf6 34.exf6. Instead, the game continued 31.Bxc8 Black immediately got rid of the dangerous knight fxe3 32.e6 Bxg5 evaporated White's attack 33.Bd7 fxe6 and 34.Bxe6+ did not help White's case, if anything it only helped Black. 33.exf7+ Qxf7 34.Qxf7+ Kxf7 35.Bb7 would have been a better continuation for White.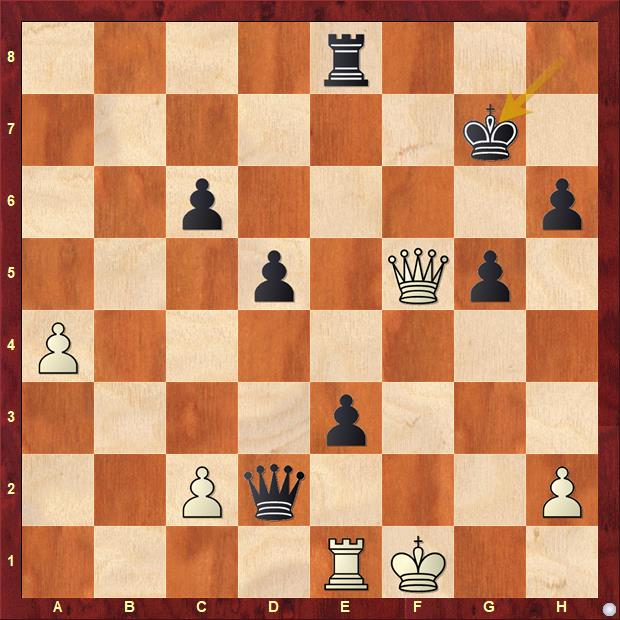 Black king marched halfway down the board as there is a checkmate threat looming at f2. Thus, Black's rook cannot be captured. 47.Qd7+ Kf6 48.Qd6+ Kf5 49.Qd7+ Re6 50.Qh7+ Kg4 51.Qf7 Re4 and White resigned.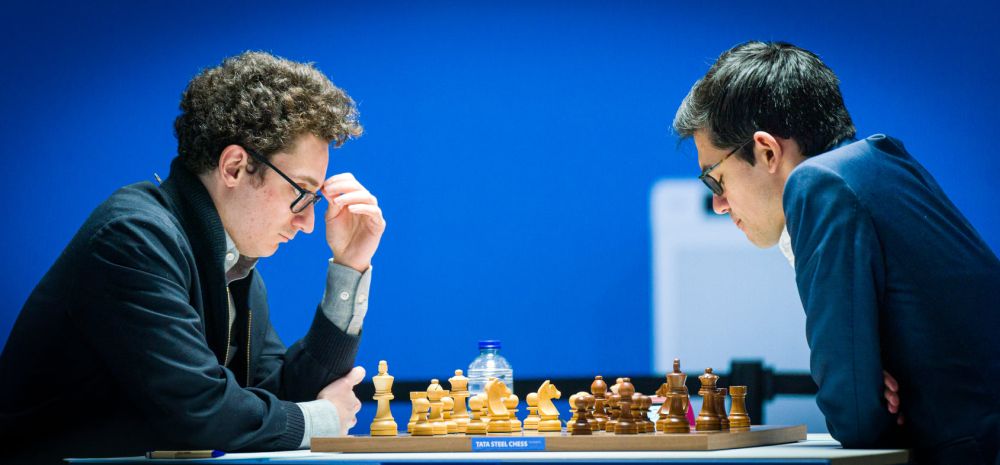 Arjun - Surya: 1-0
Arjun Erigaisi once again got a pleasant position early in the middle game against Surya Sekhar Ganguly.
White's bishop pair is evidently deadly, and it is already making some threats on Black's kingside. 22.Qh3 g6 23.Be2 Qf5 24.Bg4 Qf6 25.Bf4 now both bishops have been transferred to better diagonals and it became obvious that White is the one who can convert this into a win.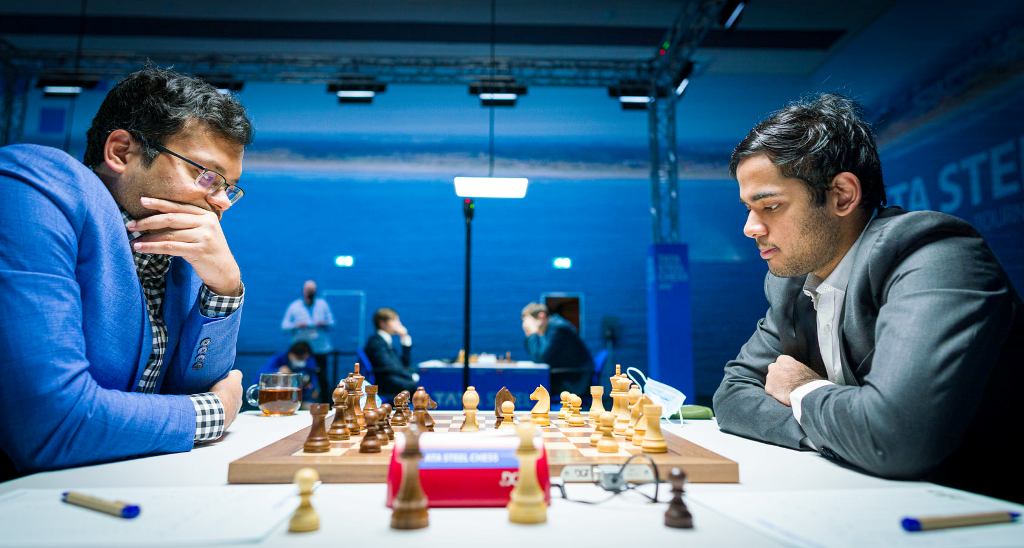 Eight Indians in World Top 100
For the first time in the history of Indian chess, we have eight players in the world top 100 rankings of classical chess.
Replay Round 6 Masters games
Replay Round 6 Challengers games
Round 6 results
Round 7 pairings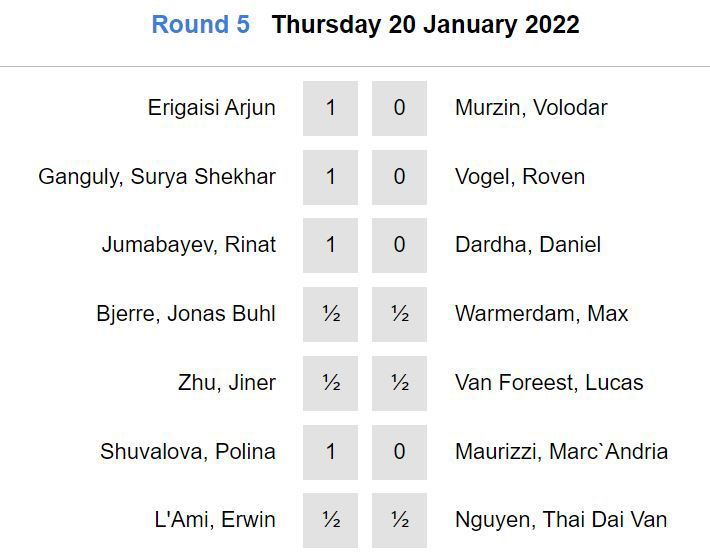 Standings after Round 6
Schedule
Starting from Saturday 15th January, all round starts at 6:30 p.m. IST, only Sunday 30th January, the final round will start at 4:30 p.m. IST. Rest days are - 19th, 24th and 27th January.
Time Control
100 minutes for 40 moves, followed by 50 minutes for 20 moves, then 15 minutes for the remaining moves with 30 seconds cumulative increment for each move starting from the first move.
Links
---