"Don't worry, just beat Magnus Carlsen" The Praggnanandhaa Interview
by Himank Ghosh - 23/08/2022
It was a big day for Praggnanandhaa as he beat Magnus Carlsen in the final round of the FTX Crypto Cup 2022. Pragg played fascinating chess and won three games in a row to take home the match in the blitz tiebreaks. After the games ended, we waited for Pragg to arrive for the interview and he did not disappoint! At 3 a.m. he arrived and although he was quite tired, he patiently answered all the questions. Special thanks to Ayushi and Harshil for this interview- the people who made it possible to do interviews of the players right from the venue.
Beating the World champion 3 times in a row- a normal day at work
IM Sagar Shah (SS): Hi Praggnanandhaa, congratulations! How are you feeling?
GM Rameshbabu Praggnanandhaa (Pragg): Thank you! I feel good.
SS: Are you happier that you have won $37,000 today in this tournament, or you've beaten Magnus Carlsen?
Pragg: I didn't even know that I won $37,000 [smiles]. Beating Magnus makes me much happier.
SS: How was the match with Magnus today according to you? I thought it was quite intense. After the third game loss, you might have felt a little worried, that it would be difficult to make a comeback. What did you feel?
Pragg: The first game was crucial. I was winning completely, and I didn't win it. I think that was a big missed chance.
SS: Were you surprised when he played Nxc5? Did you see it beforehand that this is a blunder?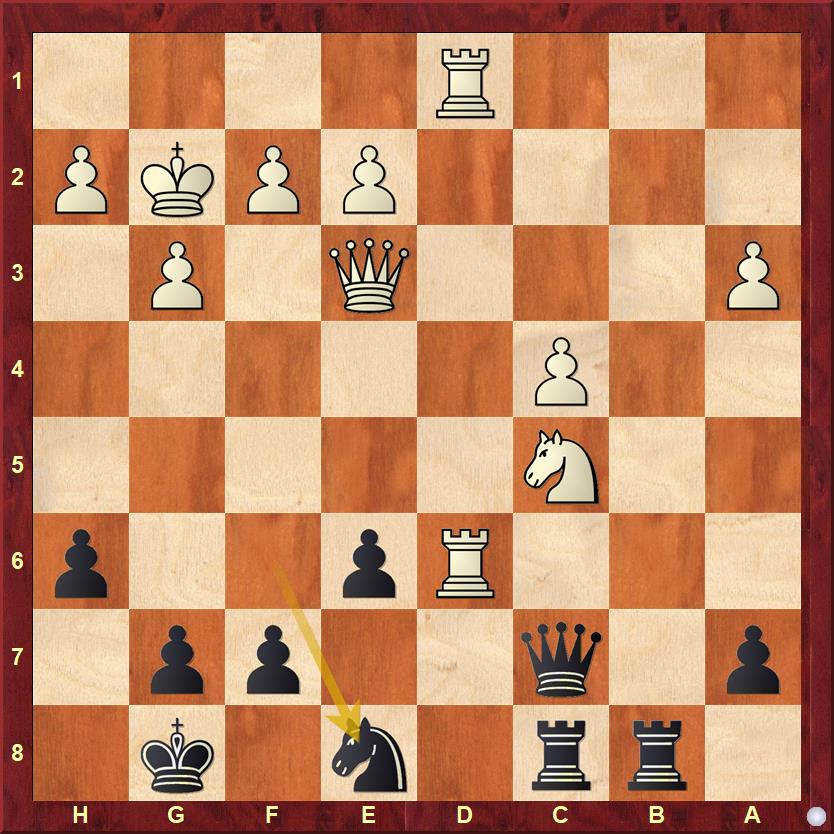 Pragg: Yes, I saw …Ne8 beforehand. But I missed 25. Nxe6 Qb7+ 26. R6d5 fxe6 27. Qxe6+ Kh8 28. Qe4! when I went into this line. I saw Qe4 and thought I have …Nf6, but then Rd8+ is there. This was a tactic I missed.
SS: It was still better for you, but not easy.
Pragg: Yeah, I think it was probably winning. Just 28…Qa8 followed by …Nf6 would've been good.
SS: Generally, when a game would end, what do you do? Do you come back to this room and prepare a bit?
Pragg: Yeah, I'll discuss with Ramesh sir, and check a little bit on what to do for the next game. I also try to have some food during these breaks.
SS: The second game was very nice, it also ended in a draw.
Pragg: In the second game, I should've lost [chuckles].
SS: It was amazing that you managed to hold this rook endgame, and I think it was very nicely done. You lost the third game, but you defended very well!
Pragg: Yes, I should've drawn that game. He put me under a lot of pressure, and with little time on the clock, it's always hard to find the correct moves.
SS: The fourth game was the best. Would you say that was the best game of today?
Pragg: No [smiles]. He was trying to make things complicated; I think he just wanted to have some fun.
SS: Yeah, he played a wild move …b5. But you found all these nice moves like Qd2!
Pragg: After …Ra2 I played quite well. After …. Ra2 Qxa2 Qxf4, I played well and managed to win that passed d-pawn.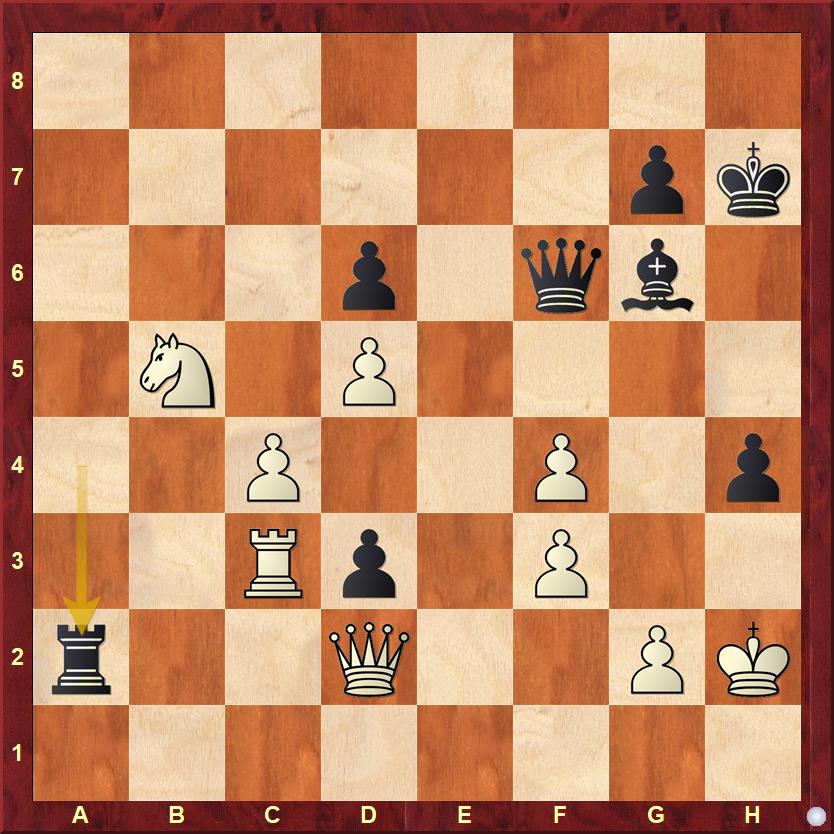 SS: Were you surprised that he played Ra2, or you had seen it beforehand?
Pragg: No, I was not surprised, I knew he'll play Ra2. He was playing moves like …b5, so I knew he was in a mood to sacrifice something. But the longer he was thinking, I was thinking that he might not play it, he'll play some normal move. I felt he couldn't make it work, and it was a bit of a gamble.
SS: But he did play it! Even in the end, I think it was still very complicated.
Pragg: Yes, I managed to escape the checks. I was happy to find Kg1 followed by Kh1.
SS: When you came to the first blitz game of the playoffs, you looked in an upbeat mood at that point. We could see you came with a smile on your face!
Pragg: No, I was just laughing about this game with Ramesh sir [smiles]. First of all, in the opening, I played very badly. I got into trouble with the White pieces.
SS: Why did you play d5 in the fourth game?
Pragg: At that point, I was just making the moves. I didn't even think about it, I had still not recovered from the previous round.
SS: Did you know that Carlsen was laughing all the time today?
Pragg: I know that he was laughing yesterday, but I didn't know he was laughing today. I can't really see him during the games.
SS: I thought the first blitz game was the best game of yours. You found so many good moves!
Amruta Mokal (AM): Till what point was your preparation for the game?
Pragg: I think I knew something like this might come across the board. I found Nf3+ over the board.
Here, I could've just played …e5 directly. I saw it after I had played …Bd7. At this point, I was just trying to play fast.
SS: You managed to win this game, and the last game was epic. You were almost lost here!
Pragg: In this game. I was just trying to exchange all the pieces [chuckles].
AM: When you went for 37.c4, do you think you should've played b4, or you should've preserved that pawn structure?
Pragg: c4 was definitely a bad move. I had around 8 seconds in the clock at that point, so I just wanted to make some move. But even before that, it's slightly unpleasant for White.
AM: After winning this game, what was the feeling like? How shocked were you?
Pragg: I was very happy, but I didn't feel anything really special. After I lost the third game, I was not really caring if I win or not. I was just playing and trying to have fun. So even if I would've lost, I wouldn't be too sad. [smiles] It would've been fun to play Armageddon!
SS: Which was your favorite match from this entire event?
Pragg: I think my match against Alireza was quite interesting. I played well in the first game. In the third game, I got lucky and managed to win that position. I think all the matches were quite exciting and intense!
AM: Was Vaishali watching your game, and is she awake until the match ended today?
Pragg: I haven't checked my phone yet, so I don't know. She might have been watching, but I think she usually sleeps before my games are over, atleast in this tournament [chuckles]. Today she sent a message-
Don't worry, just beat Magnus.
SS: You can now reply to her "Okay, I did it!" Would you say that this format is something that suits you really well because even when low on time, you're able to outplay many world-class players. Or it's just that there's no difference between rapid and classical for you?
Pragg: No, it does make a lot of difference between rapid and classical. Maybe I'm just good with less time, I don't get tensed. I keep my calm and just keep playing.
Ayushi: In the game against Duda, what happened? Can you explain to us a little, what was going on in your mind?
Pragg: I just didn't see the mate till he played it, and suddenly the screen popped up saying that I lost [laughs]. Then I figured out, oh, it's just a checkmate.
SS: Was it difficult to play in the US due to Jetlag and the change of time zone?
Pragg: I had jetlag in the first 1-2 days. The game starts quite early at 12, so it was not a huge problem.
SS: What's your plan for now? Will you celebrate this, or this is just like another result and you're going to practice more chess?
Pragg: No, there'll be no chess for the next 2-3 days. After that, I'll go to Dubai for the Dubai Open. I don't think there'll be any celebrations as well [smiles]
SS: So, winning a match against Magnus, would you say that this is a special moment for you or it's just a normal day at work?
Pragg: Somehow, I just feel it's normal. I'm happy, but I don't feel anything too special.

Harshil: At the breakfast table today, Anish Giri created a caption for today's match "Underrated Pragg versus Overrated Magnus"! [everyone laughs]
SS: Can you tell us a bit about the role of Ramesh sir with you? Because I think in many of the games, you guys would analyze in between the rounds, and I think that must have helped you.
Pragg: Yeah, I think it was very important for me. In a lot of games, I managed to show improvement because of Ramesh sir. Before the matches, we would try to see what openings to play, and check the opponent's games. During preparation, we had a lot of fun and we were cracking jokes.
SS: Were you listening to any music during the games?
Pragg: No [smiles]. We also spoke about this during breakfast. I was using the headphones just for noise cancellation.
SS: Would you prefer this event, where you're sitting opposite each other and there's a computer screen? Or do you prefer playing over the board? What is your preference?
Pragg: I would prefer over the board.
SS: But if you have superior mouse skills, it impacts the results a bit, you can make quick moves.
Pragg: It doesn't make so much difference because, with increment, you won't be flagging so easily anyway. In Armageddon, maybe it does make a difference, but I don't think I'm so great with mouse skills. So, for me, it doesn't make a difference.
SS: Thanks Pragg, thank you so much for your time. Congratulations once again, we enjoyed ourselves a lot today!
Pragg: Thank you!
Replay the live stream
Replay Round 7 games
Round 7 results
Final standings after Round 7
Tour standings
Links
---
Related news
:
Chairman of ISRO S. Somanath visits Praggnanandhaa's home in Chennai

@ 24/10/2023 by Sagar Shah (en)
How the world reacted to Praggnanandhaa's silver medal finish at World Cup 2023

@ 11/09/2023 by Sneha Tiwari (en)
Gukesh dethrones Vishy Anand's 37-year-long reign as India no.1 officially, also becomes World no.8

@ 01/09/2023 by Shahid Ahmed (en)
मैंने नहीं सोचा था कैंडिडैट में होगा चयन " प्रज्ञानन्दा

@ 27/08/2023 by Niklesh Jain (hi)
The life story of Praggnanandhaa in 120 pictures: From a talent to a Candidate

@ 22/08/2023 by Sagar Shah (en)
Indian chess community on Praggnanandhaa crossing 2700 Elo at the age of 17 years

@ 29/07/2023 by Sagar Shah (en)
Praggnanandhaa triumphs at V Géza Hetényi Memorial 2023 with a 2833 performance

@ 20/07/2023 by Shahid Ahmed (en)
Praggnanandhaa on the verge of winning V Géza Hetényi Memorial 2023

@ 19/07/2023 by Shahid Ahmed (en)
ये तो होना ही था ! प्रज्ञानन्दा हुए 2700 के पार

@ 13/07/2023 by Niklesh Jain (hi)
Praggnanandhaa teams up with Carlsen for the first time for Offerspill and wins Norwegian Elite League 2022-23

@ 06/03/2023 by Shahid Ahmed (en)
Magnus Carlsen wins Airthings Masters 2023

@ 11/02/2023 by Shahid Ahmed (en)
Airthings Masters 2023: Nakamura takes the alternate route to the Grand Final

@ 10/02/2023 by Shahid Ahmed (en)
Airthings Masters 2023 LQF: Arjun Erigaisi eliminates Gukesh

@ 09/02/2023 by Shahid Ahmed (en)
Airthings Masters 2023 SF: Carlsen beats Arjun Erigaisi, will face Nakamura in the Finals

@ 08/02/2023 by Shahid Ahmed (en)
Airthings Masters 2023 QF: Arjun Erigaisi squashes Firouzja, sets up a clash with Carlsen

@ 07/02/2023 by Shahid Ahmed (en)
MCCT Finals R7: Praggnanandhaa beats Arjun Erigaisi, So finishes second

@ 21/11/2022 by Shahid Ahmed (en)
Magnus Carlsen applauds Indian chess talents and fans

@ 20/11/2022 by Himank Ghosh (en)
कार्लसन नें जीता चैम्पियन चैस टूर फाइनल्स

@ 20/11/2022 by Niklesh Jain (hi)
Magnus Carlsen wins MCCT Finals 2022 with a round to spare

@ 20/11/2022 by Shahid Ahmed (en)
सीसीटी फाइनल्स : अर्जुन - प्रज्ञानंधा की शानदार जीत

@ 19/11/2022 by Niklesh Jain (hi)
MCCT Finals R5: Praggnanandhaa wins a thriller against Duda

@ 19/11/2022 by Shahid Ahmed (en)
सीसीटी फाइनल्स : अर्जुन की वापसी ,ममेद्यारोव को दी मात

@ 18/11/2022 by Niklesh Jain (hi)
MCCT Finals R4: Arjun Erigaisi beats Mamedyarov, ends his win drought

@ 18/11/2022 by Shahid Ahmed (en)
सीसीटी फाइनल : प्रज्ञानन्धा नें लिम को 3-0 से हराया

@ 17/11/2022 by Niklesh Jain (hi)
MCCT Finals R3: Praggnanandhaa squashes Liem 3-0

@ 17/11/2022 by Shahid Ahmed (en)
सीसीटी फाइनल : अनीश से जीत के करीब जाकर हारे प्रज्ञानन्धा

@ 16/11/2022 by Niklesh Jain (hi)
MCCT Finals R2: Giri makes a comeback against Praggnanandhaa

@ 16/11/2022 by Shahid Ahmed (en)
सीसीटी फाइनल : प्रज्ञानन्धा नें दी ममेद्यारोव को टक्कर

@ 15/11/2022 by Niklesh Jain (hi)
MCCT Finals R1: Tough start for Arjun and Praggnanandhaa

@ 15/11/2022 by Shahid Ahmed (en)
Arjun Erigaisi and Praggnanandhaa to battle Carlsen and Co. at Meltwater Champions Chess Tour 2022 Finals

@ 14/11/2022 by Shahid Ahmed (en)
Jan-Krzysztof Duda defies Mamedyarov's inspired comeback, clinches Aimchess Rapid 2022

@ 22/10/2022 by Shahid Ahmed (en)
Aimchess Rapid Finals: Jan-Krzysztof Duda wins the first set

@ 21/10/2022 by Shahid Ahmed (en)
Aimchess Rapid SF: Jan-Krzysztof Duda denies Magnus Carlsen a hat-trick again

@ 20/10/2022 by Shahid Ahmed (en)
Aimchess Rapid QF: Carlsen wins the Tour with a tournament to spare

@ 19/10/2022 by Shahid Ahmed (en)
Aimchess Rapid R13-15: Gukesh, Arjun Erigaisi and Vidit Gujrathi advance to the Quarterfinals

@ 18/10/2022 by Shahid Ahmed (en)
Aimchess Rapid R9-12: Gukesh becomes the youngest ever to win against the World Champion Carlsen

@ 17/10/2022 by Shahid Ahmed (en)
Aimchess Rapid R5-8: Arjun Erigaisi beats Magnus Carlsen for the very first time

@ 16/10/2022 by Shahid Ahmed (en)
Aimchess Rapid R1-4: Carlsen escapes the jaws of defeat against Aditya Mittal

@ 15/10/2022 by Shahid Ahmed (en)
Five Indians will battle Carlsen and the world's best at Aimchess Rapid starting today

@ 14/10/2022 by Shahid Ahmed (en)
I believe that Niemann has cheated more & more recently than he has publicly admitted - Carlsen

@ 27/09/2022 by Shahid Ahmed (en)
Magnus Carlsen dominates Julius Baer Generation Cup

@ 26/09/2022 by Shahid Ahmed (en)
Generation Cup Final 1: Carlsen wins the first set

@ 25/09/2022 by Shahid Ahmed (en)
Generation Cup SF: Arjun Erigaisi bests Liem, set to clash with Carlsen in the Finals

@ 24/09/2022 by Shahid Ahmed (en)
जनरेशन कप के सेमी फाइनल में पहुंचे अर्जुन

@ 23/09/2022 by Niklesh Jain (hi)
Generation Cup QF: Arjun Erigaisi eliminates Christopher Yoo

@ 23/09/2022 by Shahid Ahmed (en)
Magnus Carlsen tops Generation Cup Prelims by a huge margin, breaks his silence

@ 22/09/2022 by Shahid Ahmed (en)
Generation Cup R9-12: Carlsen regains his sole lead, Arjun Erigaisi firm second

@ 21/09/2022 by Shahid Ahmed (en)
Generation Cup R5-8: Praggnanandhaa sets the board ablaze with Carlsen, Arjun Erigaisi grabs sole lead

@ 20/09/2022 by Shahid Ahmed (en)
Generation Cup R1-4: Praggnanandhaa beats Ivanchuk, Duda and Gelfand

@ 19/09/2022 by Shahid Ahmed (en)
Praggnanandhaa, Arjun Erigaisi and Adhiban to duke it out with Carlsen and co. at Julius Baer Generation Cup

@ 18/09/2022 by Shahid Ahmed (en)
Carlsen's challenge solved

@ 12/09/2022 by Sagar Shah (en)
Hans Niemann - "This is a targeted attack"

@ 07/09/2022 by Himank Ghosh (en)
Your chance to meet Vishy Anand and the young super talents of Indian chess in Bangalore!

@ 06/09/2022 by Sagar Shah (en)
कार्लसन को हराकर प्रग्गानंधा बने एफ़टीएक्स क्रिप्टो कप के उपविजेता

@ 22/08/2022 by Niklesh Jain (hi)
Praggnanandhaa beats Magnus three times in-a-row, still Carlsen wins FTX Crypto Cup 2022

@ 22/08/2022 by Shahid Ahmed (en)
"Abdusattorov has a lot of similarities to Magnus Carlsen" - GM Ivan Sokolov

@ 21/08/2022 by Himank Ghosh (en)
Magnus Carlsen on the verge of winning the FTX Crypto Cup 2022

@ 21/08/2022 by Shahid Ahmed (en)
FTX Crypto Cup 2022 R5: Duda beats Carlsen four times in four hours

@ 20/08/2022 by Shahid Ahmed (en)
एफ़टीएक्स क्रिप्टो कप : कार्लसन -प्रग्गा की चौंथी जीत

@ 19/08/2022 by Niklesh Jain (hi)
FTX Crypto Cup 2022 R4: Praggnanandhaa scores a crushing victory over Aronian

@ 19/08/2022 by Shahid Ahmed (en)
FTX Crypto Cup 2022 R3: Praggnanandhaa beats Niemann, stays in the lead with Carlsen

@ 18/08/2022 by Shahid Ahmed (en)
FTX Crypto Cup 2022 R2: Praggnanandhaa gets his revenge against Giri

@ 17/08/2022 by Shahid Ahmed (en)
एफ़टीएक्स क्रिप्टो कप R2: प्रग्गा नें अनीश को दी मात

@ 17/08/2022 by Niklesh Jain (hi)
FTX Crypto Cup 2022 R1: Praggnanandhaa beats Firouzja for the very first time

@ 16/08/2022 by Shahid Ahmed (en)
एफ़टीएक्स क्रिप्टो कप : प्रग्गा की अलीरेजा पर शानदार जीत

@ 16/08/2022 by Niklesh Jain (hi)
Praggnanandhaa set to battle against Carlsen, Aronian, Duda and Co. at FTX Crypto Cup

@ 15/08/2022 by Shahid Ahmed (en)
Praggnanandhaa clinches 15th Paracin Open with a 2789 performance, now World no.89

@ 17/07/2022 by Shahid Ahmed (en)
FTX Road to Miami QF: Levon Aronian eliminates Arjun Erigaisi

@ 15/07/2022 by Shahid Ahmed (en)
FTX Road to Miami R13-15: Arjun Erigaisi set to clash with Aronian in the Quarterfinals

@ 14/07/2022 by Shahid Ahmed (en)
FTX Road to Miami R9-12: Arjun Erigaisi storms into the Quarterfinals with Sevian

@ 13/07/2022 by Shahid Ahmed (en)
FTX Road to Miami R5-8: Arjun Erigaisi ascends to the second place

@ 12/07/2022 by Shahid Ahmed (en)
FTX Road to Miami R1-4: Arjun Erigaisi beats Levon Aronian again

@ 11/07/2022 by Shahid Ahmed (en)
Arjun Erigaisi will face the World's best at FTX Road to Miami

@ 10/07/2022 by Shahid Ahmed (en)
The Praggnanandhaa interview on winning the Norway Chess Open

@ 14/06/2022 by Himank Ghosh (en)
Ding Liren clinches Chessable Masters 2022, Praggnanandhaa delivers stupendous performance

@ 27/05/2022 by Shahid Ahmed (en)
Chessable Masters 2022 F1: Ding Liren gains advantage

@ 26/05/2022 by Shahid Ahmed (en)
Chessable Masters 2022 SF: Praggnanandhaa knocks out Giri, will face Ding Liren in the Final

@ 25/05/2022 by Shahid Ahmed (en)
Chessable Masters 2022 QF: Praggnanandhaa eliminates Wei Yi, set to clash with Giri in the Semifinal

@ 24/05/2022 by Shahid Ahmed (en)
Chessable Masters 2022 R13-15: Praggnanandhaa advances to the Quarterfinals

@ 23/05/2022 by Shahid Ahmed (en)
Chessable Masters 2022 R9-12: Anish Giri climbs to the top

@ 22/05/2022 by Shahid Ahmed (en)
Chessable Masters 2022 R5-8: Praggnanandhaa beats Magnus Carlsen again

@ 21/05/2022 by Shahid Ahmed (en)
Chessable Masters 2022 R1-4: Wei Yi takes an early sole lead

@ 20/05/2022 by Shahid Ahmed (en)
Vidit, Harikrishna and Praggnanandhaa will duke it out with World's best at Chessable Masters 2022

@ 19/05/2022 by Shahid Ahmed (en)
Jan-Krzysztof Duda halts Carlsen's hat-trick, wins Oslo Esports Cup

@ 29/04/2022 by Shahid Ahmed (en)
Oslo Esports Cup R6: Duda denies Praggnanandhaa

@ 28/04/2022 by Shahid Ahmed (en)
Oslo Esports Cup R5: Minimalist Praggnanandhaa strikes again, regains sole lead

@ 27/04/2022 by Shahid Ahmed (en)
Oslo Esports Cup R4: Carlsen crushes Praggnanandhaa, joins the lead

@ 26/04/2022 by Shahid Ahmed (en)
Oslo Esports Cup R3: Fiery Praggnanandhaa bests Liem, scores a hat-trick

@ 25/04/2022 by Shahid Ahmed (en)
Oslo Esports Cup R2: Praggnanandhaa superb against Shakh, gains sole lead

@ 24/04/2022 by Shahid Ahmed (en)
Oslo Esports Cup R1: Praggnanandhaa beats Jorden van Foreest

@ 23/04/2022 by Shahid Ahmed (en)
Praggnanandhaa gets a Wildcard to the Oslo Esports Cup

@ 22/04/2022 by Shahid Ahmed (en)
Magnus Carlsen wins Charity Cup in a thrilling Final

@ 27/03/2022 by Shahid Ahmed (en)
मेगनस कार्लसन नें जीता मेल्टवाटर चैरिटी कप

@ 27/03/2022 by Niklesh Jain (hi)
Magnus Carlsen on the verge of winning the Charity Cup

@ 26/03/2022 by Shahid Ahmed (en)
Charity Cup SF: Carlsen will face arch rival Duda in the Finals

@ 25/03/2022 by Shahid Ahmed (en)
Charity Cup QF: Carlsen, Duda and Ding Liren storm into Semifinals

@ 24/03/2022 by Shahid Ahmed (en)
Charity Cup R13-15: Heartbreak for Praggnanandhaa and Vidit

@ 23/03/2022 by Shahid Ahmed (en)
Charity Cup R9-12: Vidit beats Duda

@ 22/03/2022 by Shahid Ahmed (en)
Charity Cup R5-8: Praggnanandhaa stuns World no.3 Ding Liren

@ 21/03/2022 by Shahid Ahmed (en)
Charity Cup R1-4: Vidit makes an unbeaten start 8.0/12

@ 20/03/2022 by Shahid Ahmed (en)
चैरिटी कप D1 : विदित गुजराती की अच्छी शुरुआत

@ 20/03/2022 by Niklesh Jain (hi)
Vidit, Harikrishna and Praggnanandhaa to face Carlsen and world's best at Charity Cup

@ 18/03/2022 by Shahid Ahmed (en)
Magnus Carlsen wins Airthings Masters 2022

@ 27/02/2022 by Shahid Ahmed (en)
Airthings Masters Final 1: Four exciting draws

@ 26/02/2022 by Shahid Ahmed (en)
Airthings Masters SF: Magnus Carlsen set to face Ian Nepomniachtchi in the Finals

@ 25/02/2022 by Shahid Ahmed (en)
Airthings Masters QF: Vladislav Artemiev eliminates Ding Liren

@ 24/02/2022 by Shahid Ahmed (en)
Airthings Masters R13-15: Nepomniachtchi tops the Prelims

@ 23/02/2022 by Shahid Ahmed (en)
Airthings Masters R9-12: Carlsen is down with Covid, still climbs to second spot

@ 22/02/2022 by Shahid Ahmed (en)
Airthings Masters R5-8: Praggnanandhaa beats Magnus Carlsen for the very first time

@ 21/02/2022 by Shahid Ahmed (en)
Airthings Masters R1-4: Ding Liren takes sole lead 10.0/12

@ 20/02/2022 by Shahid Ahmed (en)
Praggnanandhaa set to clash with Carlsen and world's best at Airthings Masters

@ 19/02/2022 by Shahid Ahmed (en)
Praggnanandhaa on his debut at Tata Steel Chess 2022 Masters

@ 09/02/2022 by Shahid Ahmed (en)
Shakhriyar Mamedyarov's words of ultimate praise for Magnus Carlsen

@ 02/02/2022 by Sagar Shah (en)
"2900 रेटिंग मुश्किल है असंभव नहीं" - मेगनस कार्लसन

@ 01/01/2022 by Niklesh Jain (hi)
Praggnanandhaa will fight against Carlsen, Caruana & Co. at the Tata Steel Masters 2022

@ 27/10/2021 by Sagar Shah (en)
मेगनस कार्लसन बन ही गए चैम्पियन चैस टूर विजेता

@ 07/10/2021 by Niklesh Jain (hi)
CCT Finals: Magnus Carlsen wins the first-ever NFT trophy

@ 05/10/2021 by Shahid Ahmed (en)
CCT Finals R8: Aronian beats Carlsen

@ 04/10/2021 by Shahid Ahmed (en)
Magnus Carlsen clinches Meltwater Champions Chess Tour with two rounds to spare

@ 03/10/2021 by Shahid Ahmed (en)
CCT Finals R6: Carlsen beats Giri, on the brink of winning the Tour

@ 02/10/2021 by Shahid Ahmed (en)
CCT Finals R5: Carlsen annihilates Nakamura

@ 30/09/2021 by Shahid Ahmed (en)
CCT Finals R4: Artemiev beats Carlsen

@ 29/09/2021 by Shahid Ahmed (en)
CCT Finals R3: Carlsen beats Vachier-Lagrave in tie-breaks

@ 28/09/2021 by Shahid Ahmed (en)
CCT Finals R2: Carlsen wins a thriller against Mamedyarov

@ 27/09/2021 by Shahid Ahmed (en)
CCT Finals R1: Carlsen and So make a dominant start

@ 26/09/2021 by Shahid Ahmed (en)
Magnus Carlsen signs FIDE World Chess Championship Match 2021 contract

@ 23/09/2021 by Shahid Ahmed (en)
Magnus Carlsen wins Aimchess US Rapid with a dominant show

@ 06/09/2021 by Shahid Ahmed (en)
Carlsen is poised to win Aimchess US Rapid

@ 05/09/2021 by Shahid Ahmed (en)
Aimchess US Rapid SF2: Artemiev will face Carlsen in the Finals

@ 04/09/2021 by Shahid Ahmed (en)
Aimchess US Rapid SF1: No advantage for anyone

@ 03/09/2021 by Shahid Ahmed (en)
Aimchess US Rapid QF2: Carlsen avenges his World Cup loss against Duda

@ 02/09/2021 by Shahid Ahmed (en)
Aimchess US Rapid QF1: Carlsen and Firouzja blaze Duda and So

@ 01/09/2021 by Shahid Ahmed (en)
Aimchess US Rapid Day 3: Duda-Carlsen rematch in the Quarterfinals

@ 31/08/2021 by Shahid Ahmed (en)
Aimchess US Rapid Day 2: Artemiev's hat-trick springs him to the top

@ 30/08/2021 by Shahid Ahmed (en)
Aimchess US Rapid Day 1: Carlsen makes a narrow escape against Vidit

@ 29/08/2021 by Shahid Ahmed (en)
Vidit stars with Carlsen, Duda, Giri, MVL in Aimchess US Rapid starting today

@ 28/08/2021 by Shahid Ahmed (en)
Wesley So wins Meltwater Champions Chess Tour Chessable Masters

@ 09/08/2021 by Shahid Ahmed (en)
So on the verge of winning the Chessable Masters

@ 08/08/2021 by Shahid Ahmed (en)
Chessable Masters SF2: Phenomenal Liem will face So in the Finals

@ 07/08/2021 by Shahid Ahmed (en)
Chessable Masters SF1: Advantage Liem and So

@ 06/08/2021 by Shahid Ahmed (en)
Chessable Masters QF Day 2: Liem storms into Semifinals

@ 05/08/2021 by Shahid Ahmed (en)
Chessable Masters QF Day 1: Jorden ends So's unbeaten streak

@ 04/08/2021 by Shahid Ahmed (en)
Chessable Masters Day 3: So tops the Prelims

@ 03/08/2021 by Shahid Ahmed (en)
Chessable Masters Day 2: So remains unbeaten in the first ten

@ 02/08/2021 by Shahid Ahmed (en)
Chessable Masters Day 1: So takes an early sole lead 4.0/5

@ 01/08/2021 by Shahid Ahmed (en)
Harikrishna, Humpy and Adhiban will feature in Chessable Masters

@ 31/07/2021 by Shahid Ahmed (en)
Praggnanandhaa and his visa issues

@ 06/07/2021 by Sagar Shah (en)
Levon Aronian wins Goldmoney Asian Rapid

@ 05/07/2021 by Shahid Ahmed (en)
Aronian is one step closer to win the Goldmoney Asian Rapid

@ 04/07/2021 by Shahid Ahmed (en)
Goldmoney Asian Rapid SF Day 2: Aronian knocks out Carlsen

@ 03/07/2021 by Shahid Ahmed (en)
Goldmoney Asian Rapid SF Day 1: Advantage Carlsen and Ding Liren

@ 02/07/2021 by Shahid Ahmed (en)
Goldmoney Asian Rapid QF Day 2: Arjun's dream debut comes to an end

@ 01/07/2021 by Shahid Ahmed (en)
Goldmoney Asian Rapid QF Day 1: Arjun Erigaisi ends Aronian's unbeaten streak

@ 30/06/2021 by Shahid Ahmed (en)
Goldmoney Asian Rapid Day 3: Magnificent Arjun Erigaisi qualifies to the Quarter-Finals

@ 29/06/2021 by Shahid Ahmed (en)
Goldmoney Asian Rapid Day 2: Arjun Erigaisi continues to impress

@ 28/06/2021 by Shahid Ahmed (en)
Goldmoney Asian Rapid Day 1: Arjun Erigaisi surprises Dubov

@ 27/06/2021 by Shahid Ahmed (en)
Vidit, Adhiban, Gukesh and Arjun Erigaisi will feature in Goldmoney Asian Rapid

@ 25/06/2021 by Shahid Ahmed (en)
रोमांचक फाइनल में कार्लसन बने क्रिप्टो कप विजेता

@ 01/06/2021 by Niklesh Jain (hi)
Carlsen finally beats So in the Finals to win FTX Crypto Cup

@ 01/06/2021 by Shahid Ahmed (en)
FTX Crypto Cup Finals Day 1: Carlsen-So put up a good fight while Radjabov draws the ire

@ 31/05/2021 by Shahid Ahmed (en)
तीसरी बार होगा कार्लसन - वेसली के बीच फाइनल

@ 30/05/2021 by Niklesh Jain (hi)
FTX Crypto Cup SF Day 2: Carlsen vs So III in the Finals

@ 30/05/2021 by Shahid Ahmed (en)
क्रिप्टो कप SF - कार्लसन को हरा तैमूर नें बढ़ाया रोमांच

@ 29/05/2021 by Niklesh Jain (hi)
FTX Crypto Cup SF Day 1: So wins the first set against Nepomniachtchi

@ 29/05/2021 by Shahid Ahmed (en)
क्रिप्टो कप SF - कार्लसन अब रद्जाबोव से टकराएँगे

@ 28/05/2021 by Niklesh Jain (hi)
FTX Crypto Cup QF Day 2: Carlsen eliminates Nakamura in an exciting thriller

@ 28/05/2021 by Shahid Ahmed (en)
क्रिप्टो कप QF - कार्लसन - नाकामुरा में जोरदार टक्कर

@ 27/05/2021 by Niklesh Jain (hi)
FTX Crypto Cup QF Day 1: Carlsen and Nakamura engage in a brutal slugfest

@ 27/05/2021 by Shahid Ahmed (en)
FTX Crypto Cup Day 2 and 3: Caruana wins the Prelims 10.0/15

@ 26/05/2021 by Shahid Ahmed (en)
क्रिप्टो कप D3 - करूआना रहे ग्रुप चरण के विजेता

@ 26/05/2021 by Niklesh Jain (hi)
क्रिप्टो कप D2 - फबियानों करूआना के नाम रहा दिन

@ 25/05/2021 by Niklesh Jain (hi)
क्रिप्टो कप D1: अनीश गिरि नें बनाई एकल बढ़त

@ 24/05/2021 by Niklesh Jain (hi)
FTX Crypto Cup Day 1: Giri in the sole lead 4.0/5

@ 24/05/2021 by Shahid Ahmed (en)
Carlsen will face Nepomniachtchi in World's first Bitcoin chess tournament - FTX Crypto Cup

@ 23/05/2021 by Shahid Ahmed (en)
क्रिप्टो कप : कार्लसन और नेपो की टक्कर पर है नजर

@ 22/05/2021 by Niklesh Jain (hi)
Arjun Erigaisi beats Adhiban to win the Indian Qualifier

@ 11/05/2021 by Shahid Ahmed (en)
अर्जुन नें साधा इंडियन क्वालिफायर खिताब पर निशाना

@ 10/05/2021 by Niklesh Jain (hi)
Adhiban and Arjun Erigaisi qualify to the Meltwater Champions Chess Tour

@ 10/05/2021 by Shahid Ahmed (en)
अधिबन - अर्जुन मे होगा इंडियन क्वालिफायर फाइनल

@ 09/05/2021 by Niklesh Jain (hi)
CCT Indian Qualifier QF: Adhiban eliminates Praggnanandhaa

@ 09/05/2021 by Shahid Ahmed (en)
इंडियन क्वालिफायर - अधिबन नें प्रग्गा को किया बाहर

@ 08/05/2021 by Niklesh Jain (hi)
CCT Indian Qualifier Pre QF: Mitrabha stuns Sasikiran

@ 08/05/2021 by Shahid Ahmed (en)
इंडियन क्वालिफायर - निहाल और शशिकिरण हुए बाहर

@ 07/05/2021 by Niklesh Jain (hi)
Adhiban starts as the top seed in Indian Champions Chess Tour Qualifier

@ 07/05/2021 by Shahid Ahmed (en)
इंडियन चैस टूर क्वालिफायर - अधिबन होंगे टॉपसीड

@ 06/05/2021 by Niklesh Jain (hi)
Magnus Carlsen ends his championship drought by winning New in Chess Classic

@ 03/05/2021 by Shahid Ahmed (en)
New in Chess Classic Finals Day 1: Carlsen wins the first set

@ 02/05/2021 by Shahid Ahmed (en)
New in Chess Classic SF Day 2: Carlsen and Nakamura setup an epic clash in the Finals

@ 01/05/2021 by Shahid Ahmed (en)
New in Chess Classic SF Day 1: No one is invincible

@ 30/04/2021 by Shahid Ahmed (en)
New in Chess Classic QF Day 2: Carlsen, Aronian, Mamedyarov and Nakamura advance

@ 29/04/2021 by Shahid Ahmed (en)
New in Chess Classic QF Day 1: Advantage Aronian, Mamedyarov and Nakamura

@ 28/04/2021 by Shahid Ahmed (en)
New in Chess Classic Day 3: Praggnanandhaa impresses Carlsen

@ 27/04/2021 by Shahid Ahmed (en)
New in Chess Classic Day 2: Carlsen takes sole lead 7.0/10

@ 26/04/2021 by Shahid Ahmed (en)
New in Chess Classic Day 1: Praggnanandhaa makes a brilliant start 3.0/5

@ 25/04/2021 by Shahid Ahmed (en)
Vidit and Praggnanandhaa set for Meltwater Champions Chess Tour New in Chess Classic

@ 17/04/2021 by Shahid Ahmed (en)
अनीश गिरि बने मेगनस इनविटेशनल विजेता

@ 22/03/2021 by Niklesh Jain (hi)
Anish Giri deservedly wins Magnus Invitational

@ 22/03/2021 by Shahid Ahmed (en)
मेगनस इनविटेशनल - नेपो और अनीश ? कौन बनेगा सरताज ?

@ 21/03/2021 by Niklesh Jain (hi)
Giri or Nepomniachtchi - Who will win the Magnus Invitational?

@ 21/03/2021 by Shahid Ahmed (en)
Magnus Invitational SF Day 2: World Champions Carlsen and So get eliminated

@ 20/03/2021 by Shahid Ahmed (en)
Magnus Invitational SF Day 1: World Champions in peril

@ 19/03/2021 by Shahid Ahmed (en)
मेगनस इनविटेशनल SF1 - नेपो नें कार्लसन को दिया झटका

@ 19/03/2021 by Niklesh Jain (hi)
Magnus Invitational QF Day 2: Carlsen, So, Giri and Nepomniachtchi dominate

@ 18/03/2021 by Shahid Ahmed (en)
मेगनस इनविटेशनल : कार्लसन ,नेपो ,सो और गिरि सेमी फाइनल मे

@ 18/03/2021 by Niklesh Jain (hi)
Magnus Invitational QF Day 1: Advantage Carlsen and So

@ 17/03/2021 by Shahid Ahmed (en)
मेगनस इनविटेशनल QF - कार्लसन -सो की आसान जीत

@ 17/03/2021 by Niklesh Jain (hi)
Magnus Invitational Day 3: Carlsen tops the Prelims

@ 16/03/2021 by Shahid Ahmed (en)
मेगनस इनविटेशनल D3 : कार्लसन की शीर्ष पर वापसी

@ 16/03/2021 by Niklesh Jain (hi)
Magnus Invitational Day 2: Giri maintains his sole lead

@ 15/03/2021 by Shahid Ahmed (en)
मेगनस इनविटेशनल D2 : अनीश का जलवा बरकरार

@ 15/03/2021 by Niklesh Jain (hi)
मेगनस इनविटेशनल D1 : अनीश नें दी कार्लसन को मात

@ 14/03/2021 by Niklesh Jain (hi)
Bludgeoning and Bromancing - Giri on the go!

@ 14/03/2021 by Satanick Mukhuty (en)
Magnus Invitational Day 1: Giri beats Carlsen

@ 14/03/2021 by Shahid Ahmed (en)
मेगनस इनविटेशनल - राउंड 1 सीधा प्रसारण : LIVE

@ 13/03/2021 by Niklesh Jain (hi)
मेगनस इनविटेशनल - क्या अब जीतेंगे कार्लसन ?

@ 11/03/2021 by Niklesh Jain (hi)
Does Wesley So have Magnus Carlsen's number? Sagar and Amruta try to find out!

@ 15/02/2021 by Satanick Mukhuty (en)
Wesley So beats Carlsen in the Finals and wins Opera Euro Rapid

@ 15/02/2021 by Shahid Ahmed (en)
Opera Euro Rapid Finals: Carlsen and So poised for a thrilling finish

@ 14/02/2021 by Shahid Ahmed (en)
Opera Euro Rapid SF Day 2: Carlsen and So set up a rematch in the Finals

@ 13/02/2021 by Shahid Ahmed (en)
Opera Euro Rapid SF Day 1: Carlsen beats Vachier-Lagrave, Radjabov struggles against So

@ 12/02/2021 by Shahid Ahmed (en)
Opera Euro Rapid QF Day 2: Dubov pushes Carlsen to his limit

@ 11/02/2021 by Shahid Ahmed (en)
Opera Euro Rapid QF Day 1: Advantage Carlsen, Vachier-Lagrave and So

@ 10/02/2021 by Shahid Ahmed (en)
Opera Euro Rapid Day 3: Vidit misses against Carlsen

@ 09/02/2021 by Shahid Ahmed (en)
Opera Euro Rapid Day 2: Vidit beats Dubov

@ 08/02/2021 by Shahid Ahmed (en)
Opera Euro Rapid Day 1: Carlsen takes sole lead 4.0/5

@ 07/02/2021 by Shahid Ahmed (en)
Vidit Gujrathi returns to Meltwater Champions Chess Tour in Opera Euro Rapid

@ 05/02/2021 by Shahid Ahmed (en)
2020 में मेगनस कार्लसन नें की सबसे ज्यादा कमाई

@ 14/01/2021 by Niklesh Jain (hi)
Radjabov reigns supreme in Champions Chess Tour Airthings Masters

@ 04/01/2021 by Shahid Ahmed (en)
Can Radjabov win Champions Chess Tour Airthings Masters?

@ 03/01/2021 by Shahid Ahmed (en)
Airthings Masters SF Day 2: Radjabov and Aronian rush to the Finals

@ 02/01/2021 by Shahid Ahmed (en)
Airthings Masters SF Day 1: Radjabov and Aronian win the first set

@ 01/01/2021 by Shahid Ahmed (en)
Airthings Masters QF Day 2: Dubov eliminates Carlsen

@ 31/12/2020 by Shahid Ahmed (en)
Airthings Masters QF Day 1: Advantage Aronian and Vachier-Lagrave

@ 30/12/2020 by Shahid Ahmed (en)
Airthings Masters Day 3: Harikrishna, Grischuk, Giri and Anton get eliminated

@ 29/12/2020 by Shahid Ahmed (en)
Airthings Masters Day 2: Carlsen joins the six-pack lead

@ 28/12/2020 by Shahid Ahmed (en)
Airthings Masters Day 1: Harikrishna holds Carlsen to a draw

@ 27/12/2020 by Shahid Ahmed (en)
Harikrishna will star in the Champions Chess Tour Airthings Masters

@ 25/12/2020 by Shahid Ahmed (en)
Wesley So wins Champions Chess Tour Skilling Open

@ 01/12/2020 by Shahid Ahmed (en)
Can Carlsen win Skilling Open on his 30th birthday?

@ 30/11/2020 by Shahid Ahmed (en)
Skilling Open SF Day 2: So sets up a clash with Carlsen in the Finals

@ 29/11/2020 by Shahid Ahmed (en)
Skilling Open SF Day 1: Advantage Carlsen and So

@ 28/11/2020 by Shahid Ahmed (en)
Skilling Open QF Day 2: Nepomniachtchi, So and Nakamura make epic comebacks

@ 27/11/2020 by Shahid Ahmed (en)
Skilling Open QF Day 1: Advantage Carlsen, Aronian, Radjabov and MVL

@ 26/11/2020 by Shahid Ahmed (en)
Champions Chess Tour Skilling Open R11-15: Carlsen tops the preliminary stage

@ 25/11/2020 by Shahid Ahmed (en)
Champions Chess Tour Skilling Open R6-10: Anish Giri maintains his sole lead

@ 24/11/2020 by Shahid Ahmed (en)
Champions Chess Tour Skilling Open R1-5: Anish Giri takes sole lead

@ 23/11/2020 by Shahid Ahmed (en)
Vidit Gujrathi will star in the Champions Chess Tour Skilling Open

@ 22/11/2020 by Shahid Ahmed (en)
भारत से विदित गुजराती हुए चैम्पियन चैस टूर मे शामिल

@ 15/11/2020 by Niklesh Jain (hi)
मेगनस कार्लसन नें की चैम्पियन्स चैस टूर की घोषणा

@ 06/11/2020 by Niklesh Jain (hi)
भारत के सुनहरे भविष्य का संकेत : निहाल -प्रग्गानंधा

@ 03/09/2020 by Niklesh Jain (hi)
Carlsen wins Magnus Carlsen Chess Tour Finals

@ 21/08/2020 by Shahid Ahmed (en)
MCT Finals: Carlsen wins the sixth set despite a back injury

@ 20/08/2020 by Shahid Ahmed (en)
MCT Finals: Nakamura beats Carlsen in the Armageddon

@ 19/08/2020 by Shahid Ahmed (en)
MCT Finals: Carlsen dominates Nakamura in the fourth set

@ 18/08/2020 by Shahid Ahmed (en)
MCT Finals: Nakamura beats Carlsen in the third set

@ 17/08/2020 by Shahid Ahmed (en)
MCT Finals: Carlsen wins the second set

@ 16/08/2020 by Shahid Ahmed (en)
MCT Finals: Nakamura beats Carlsen in the first set

@ 15/08/2020 by Shahid Ahmed (en)
MCT Finals: Carlsen sets up a 'Dream Final'

@ 13/08/2020 by Shahid Ahmed (en)
MCT Finals: Nakamura eliminates Dubov and advances to the finals

@ 12/08/2020 by Shahid Ahmed (en)
Praggnanandhaa shows his phenomenal knowledge and skills on his 15th birthday

@ 11/08/2020 by Sagar Shah (en)
MCT Finals: Carlsen avenges his loss

@ 11/08/2020 by Shahid Ahmed (en)
MCT Finals: Ding Liren beats Carlsen in the first set

@ 10/08/2020 by Shahid Ahmed (en)
मुझे खुद को और बेहतर करना होगा - मेगनस कार्लसन

@ 05/08/2020 by Niklesh Jain (hi)
Magnus Carlsen launches the Chessable Masters

@ 12/06/2020 by Shahid Ahmed (en)
अब होगा मेगनस कार्लसन ऑनलाइन चैस टूर

@ 15/05/2020 by Niklesh Jain (hi)
The $1m Magnus Carlsen Tour: A new era for chess

@ 14/05/2020 by Sagar Shah (en)
कार्लसन ने ही जीता कार्लसन आमंत्रण टूर्नामेंट

@ 04/05/2020 by Niklesh Jain (hi)
Lucena in Lockdown #8: The boy next door

@ 03/05/2020 by Avathanshu Bhat (en)
कार्लसन भी पहुंचे फ़ाइनल नाकामुरा से महामुकाबला !

@ 03/05/2020 by Niklesh Jain (hi)
कार्लसन आमंत्रण : हिकारु नाकामुरा पहुंचे फ़ाइनल

@ 02/05/2020 by Niklesh Jain (hi)
कार्लसन आमंत्रण R7 - नाकामुरा फबियानों से तो कार्लसन डिंग लीरेन से खेलेंगे सेमी फ़ाइनल मुक़ाबला

@ 01/05/2020 by Niklesh Jain (hi)
कार्लसन आमंत्रण :R6:D2:1 राउंड पहले ही तय हुए टॉप 4

@ 30/04/2020 by Niklesh Jain (hi)
कार्लसन आमंत्रण :R6:D1 : मुश्किल से जीते कार्लसन ,अलीरेजा नें गिरि को हराया

@ 29/04/2020 by Niklesh Jain (hi)
कार्लसन आमंत्रण R5:D2 : कार्लसन,नाकामुरा और डिंग सेमी फ़ाइनल में करूआना भी मजबूत दावेदार

@ 28/04/2020 by Niklesh Jain (hi)
कार्लसन आमंत्रण R4:D1 - अनीश गिरि नें कार्लसन को दिया ज़ोर का झटका ,अलीरेजा नें मकसीम को दी मात

@ 27/04/2020 by Niklesh Jain (hi)
कार्लसन आमंत्रण R4:D2 - नाकामुरा पहुंचे कार्लसन के नजदीक,डिंग भी जीते पर खुल ही गया गिरि का खाता

@ 26/04/2020 by Niklesh Jain (hi)
कार्लसन आमंत्रण R4:D1 - कार्लसन का सेमी फ़ाइनल पहुँचना लगभग तय

@ 25/04/2020 by Niklesh Jain (hi)
कार्लसन आमंत्रण R3:D2 - डिंग नें टाईब्रेक में मकसीम को दी मात ,अनीश गिरि का फिर नहीं खुला खाता

@ 24/04/2020 by Niklesh Jain (hi)
कार्लसन आमंत्रण R3:D1 - कार्लसन ने करूआना को एकतरफा हराया,नाकामुरा की अलीरेजा पर जीत

@ 23/04/2020 by Niklesh Jain (hi)
कार्लसन आमंत्रण टूर्नामेंट R2:D2 - कार्लसन और करूआना सयुंक्त बढ़त पर

@ 22/04/2020 by Niklesh Jain (hi)
कार्लसन आमंत्रण R2:D1 - कार्लसन नें अलीरेजा से किया हिसाब बराबर,नाकामुरा नें अनीश गिरि को मात दी

@ 21/04/2020 by Niklesh Jain (hi)
कार्लसन आमंत्रण R1:D2 - मकसीम और करूआना जीते

@ 20/04/2020 by Niklesh Jain (hi)
कार्लसन आमंत्रण टूर्नामेंट R1:D1 - अलीरेजा को हरा डिंग लीरेन को शुरुआती बढ़त,कार्लसन नाकामुरा से जीते

@ 19/04/2020 by Niklesh Jain (hi)
कार्लसन ऑनलाइन आमंत्रण टूर्नामेंट आरंभ:देखे LIVE

@ 18/04/2020 by Niklesh Jain (hi)
Praggnanandhaa wins the TOISA 2019 for best chess player of the year

@ 07/03/2020 by Sagar Shah (en)
Praggnanandhaa's love for chess

@ 24/01/2020 by Sagar Shah (en)
The girl who made Magnus Carlsen's 2019 special

@ 03/01/2020 by ChessBase India (en)
Praggnanandhaa wins the London Chess Classic FIDE Open 2019

@ 07/12/2019 by Sagar Shah (en)
Which is the most popular chess video on the internet?

@ 27/04/2019 by Sagar Shah (en)
Ice cool Praggnanandhaa beats Fire on Board Alexei Shirov at Prague Challengers 2019

@ 12/03/2019 by Sagar Shah (en)
Praggnanadhaa beats Women's World Champion Ju Wenjun in Prague

@ 11/03/2019 by Sagar Shah (en)
What happened when Gukesh and Pragg visited Vishy Anand's home in Chennai

@ 07/02/2019 by Sagar Shah (en)
World Rapid Championship: Anand closes in on the tournament leaders going into the final day

@ 28/12/2018 by Aditya Pai (en)
World Rapid Championship: Tough day for Carlsen

@ 27/12/2018 by Aditya Pai (en)
Who is Magnus Carlsen's inspiration at the Isle of Man?

@ 02/10/2017 by ChessBase India (en)